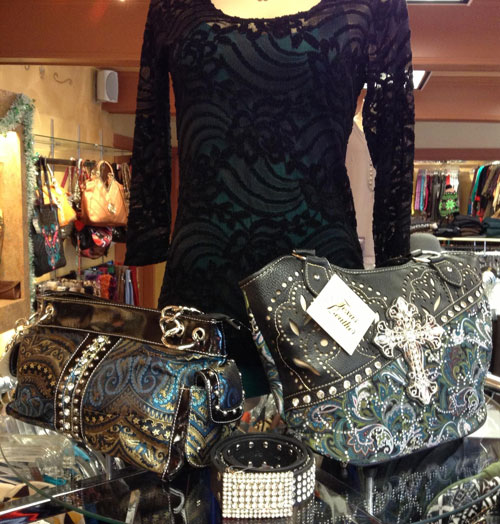 Designer clothing & accessories for fashion-conscious women
After just one step inside Bella Cose Boutique, visitors to this charming clothing and accessories shop are immediately aware of what locals already know – this will be no ordinary shopping experience. Filled with a vast selection of styles and fashion choices, Bella Cose is a destination not to be missed. In fact, the friendly staff frequently welcomes back regular visitors from out of the local area that make a point of stopping by.
The mother and daughter team of Tina Wysong and Christy Hart opened Bella Cose Boutique in 2009; they moved to a larger location in 2012. Tina, a former hairdresser, said that when she set out on a new career path many of her friends, family and clients were thrilled that she chose fashion.
"I like to help ladies look nice and I have always had a flare for fashion," Tina said, "so when we decided to open our boutique we had a lot of support from the community."
Now, as Tina and Christy share their love and passion for fashion with locals alongside their fellow boutique staff members, they have witnessed a steady growth of returning customers from Los Angeles, San Francisco and beyond.
"We also ship items on a regular basis," Tina said. "As a specialty store, we have a large selection and our customers appreciate our personalized service."
For locals, it can often be challenging to find the styles offered in larger cities. The ability to offer stylish, current, designer clothing, jewelry and accessories for fashion-conscious women with the added appeal of small-city charm has been very rewarding to the Bella Cose staff.
With plenty of spring and summer activities approaching, there are plenty of opportunities for dressing your best and also for gift-giving – there's never been a better time to stop by and find out what sets this boutique apart from others. And each time you shop at Bella Cose Boutique, you have the opportunity to earn Bella Bucks – the boutique loyalty program rewards customers and keeps them coming back for more. Want to be notified of specials such as flash sales? Be sure to leave your email address with a staff member when visiting.
"Every day, as we welcome customers to our boutique, we make new friends," Tina said. "We offer a beautiful selection and great, personalized service – everyone leaves here happy."
See what makes Bella Cose Boutique a local favorite – stop by 6195 El Camino, on the corner of Entrada and El Camino Real in Atascadero; open Monday-Friday, 10 a.m.-6 p.m. and Saturday, 10 a.m.-5 p.m. Call (805) 462-2673 or visit www.bellacoseboutique.com for more information.
— Meagan Friberg
Subscribe to weekly travel news
comments