Over 140 events at the 2023 Morro Bay Winter Bird Festival
Are you a birder? Then Morro Bay is the place for you on January 13-17, 2023, when you can join more than 600 fellow birders at the best yearly event on the Central Coast, the Morro Bay Winter Bird Festival.
The festival, which was relegated to virtual sessions during the COVID pandemic, is back in full force with over 140 events that include guided field trips, master presentations, workshops, and other special events. Participants may take place in all-day and half-day birding tours that offer a wide variety of habitats including the ocean, bay, creeks, oak woodlands and the celebrated grasslands of the Carrizo Plain.
Field trips include easy walking tours along seaside bluffs to view black and ruddy turnstones, surfbirds, whimbrels, scoters, terns, gulls and maybe a Harlequin duck. A walk along the Morro Bay State Park Marina boardwalk provides opportunities for viewing a variety of shorebirds, ducks, geese, loons, grebes, gulls, terns, and herons. Peregrine Falcons and other raptors are often seen. The level half-mile walk is especially suited for photographers, wheelchairs and those using walkers and canes.
A real adventure is the Big Day of birding where you can join a leader on a bus tour to experience a fast-paced day, with the possibility of rapid identification of over 100 species at hot spots throughout San Luis Obispo County. A special effort is made to sight regional specialties and rarities. There are many opportunities to get off the bus for closer observations.
There is a Little Big Day trip that is slower-paced for beginning and intermediate birders. Starting at a reasonable morning hour and getting back right after lunch, you ride in a spacious bus with large windows, visiting local birding hot spots and returning with a new long list of birds!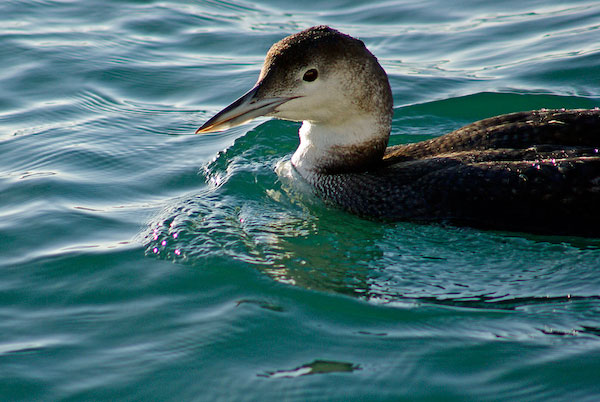 Kayaking is a wonderful way to see the variety of birds on the bay and a perfect opportunity to take photos. You may see white pelicans, brant, common loons and a host of other migratory waterfowl and shorebirds. Paddling will pass near the Heron Rookery, Grassy Island oyster farm, mudflats, and channels of the Back Bay. Double kayaks are used and no prior kayaking experience is needed.
You can choose to enjoy a leisurely boating tour of the bay and estuary in an open-deck 34-foot power catamaran. You will view a variety of shorebirds and waterfowl, often at close range. The boat moves slowly enough for you to see details of many species that you normally see only through a scope from shore. Or choose the boating tour for photographers with an expert photographer guide and enjoy a leisurely photography-focused boating tour of the bay on the catamaran.
Pelagic trips will take you out on the ocean where you might even see whales and dolphins as well as albatross, shearwaters, kittiwakes, alcids, and jaegers. Other tours inland to ranching and oak woodlands will offer sightings of various raptors, including golden eagles, meadowlarks, bluebirds, woodpeckers, and more.
Interesting workshops include Bird Banding, Owl Box Building, Identifying by Bird Song, Bird Recording and Gardening for Birds. Hikes and tours of Montana de Oro and Harmony Headlands along with hikes up Black Hill for the view and on the paths of Sweet Springs Nature Reserve are just a few of the diverse activities.
A Vendor Bazaar presents nature-related artwork, books, field equipment, attire and local merchant wares.
Jon Dunn, the chief consultant for the first five editions of National Geographic Field Guide to the Birds of North America will be a field trip leader at the festival.
The featured guest for 2023 is ornithologist and birding guide author David Allen Sibley who will offer a master birding class, lead two field trips, and deliver the keynote address on Saturday night. Sibley, an artist, knows North American birds by their shades, habitat, male and female and juvenile plumages. He began drawing birds when he was seven and his first guide was released in 2000, The Sibley Field Guide to Birds. He painstakingly draws what he sees in the field, beginning in pencil and then in gouache paints. He has 900 species in his most recent guide and is the author of several other specific bird books and guides. In 2002, he received the Roger Tory Peterson Award from the American Birding Association for lifetime achievement in promoting the cause of birding.
Events and activities fill up quickly for this popular event so while you save the dates, keep checking on the festival website www.morrobaybirdfestival.org for more information and the opening of registration.
—Ruth Ann Angus
comments