–In its heyday, the historic Carlton Hotel in Atascadero drew the likes of Jack Benny, Bette Davis, Fred McMurray and Dick Powell and was considered one of the most luxurious places to stay in California.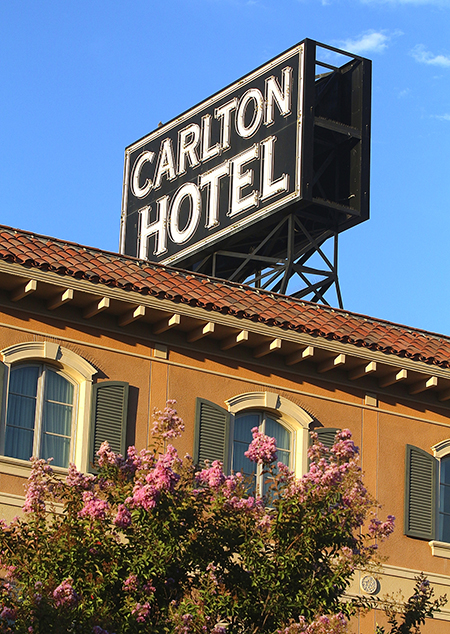 What started off as The Annex (part of the Atascadero Development Syndicate), was later renamed Hotel Halfway and Coffee Shop and eventually The Carlton. The building itself has gone through series of modifications, however, the clock tower that was added in 1952 still stands as a local city landmark.
In 1999, new ownership took over, a joint venture among David Weyrich, David Crabtree and Steve Landaker. After extensive remodeling, the hotel re-opened in 2004. The hotel's facade stayed original, but the interior was gutted and updated save for one original brick wall that is left exposed in the restaurant. The 52-room pet-friendly hotel has spacious king and queen-size bedrooms including two suites.
The six Courtyard guest rooms with king-size beds are located on the second floor and open onto the intimate Italian-tiled courtyard anchored by a fountain.
Each of the two Carlton Suites is accented with a marble foyer and the living room furnished with comfortable sofa and upholstered chair.
The Classic and Vintage rooms look out with views of the rolling hills and the Courtyard Balcony rooms on the third floor each with a private opera balcony overlook the courtyard. On the lobby level there is a spacious restaurant coupled with a large lounge area are a busy venue for private events.
The Ambrosia banquet room is another space for smaller events for up to 85 people. The diVine room complete with a walled-in wine cellar can accommodate up to 54 people The Galleria, a hallway home to a large antique clock from the original building and furnished with bistro tables and chairs, is a good spot to relax with a cup of coffee or a glass of wine.
The Carlton Hotel is one of those rare hotels along Central Coast that is a perfect melange of the old and the new. It's a throwback to the past, a time of classic elegance and gracious hospitality.
The Carlton Hotel is located at 6005 El Camino Real in Atascadero. For more information call (805) 461-5100 or visit the-carlton.com.
– Mira Advani Honeycutt
comments