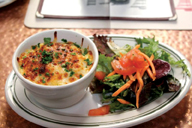 Take a food tour
When visiting a "foody" city like San Luis Obispo, trying to pick a few restaurants that capture the unique spirit of the area can be a daunting task, especially if time is tight and knowledge is lacking. Luckily, there's a new business that takes hungry visitors on a downtown walking tour that guarantees to have everyone leave town feeling like a local.
Central Coast Food Tours puts groups of up to twelve people in the capable hands of knowledgeable tour guides and sets them loose on a two mile trek through the vibrant downtown district of what USA Today and Oprah called America's happiest city. Participants are taken to six to eight food and beverage hot spots with unique styles and flavors that represent the diverse qualities of San Luis Obispo. Most are small, hole-in-the-wall type gems that locals love but that tourists might easily overlook.
"We're just local people who love this area and want to share our enthusiasm with visitors," said Laura Gurreau, who started the business with her husband in April of 2011. "We want to shine a light on the back street finds."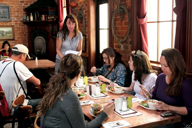 Each stop on the tour includes a pre-arranged, snack size serving of the establishment's finest offerings. Be prepared to taste decadent truffles, fresh salads, rich olive oils, exotic meats, and much more. All together, there's plenty of food for a full meal (and even take-out boxes), but the fine dining is broken up with easy strolls through interesting neighborhoods, giving everyone time to digest and make room for more morsels.
The food is the obvious star of the show, but the tour includes much more than a list of restaurants and some lunch. Gurreau and her lead tour guide, Jules Durocher, did extensive research with the San Luis Obispo Historical Society to learn about the area's dramatic history and architecture. They also sat down with each of their featured business owners to learn the story behind the food.
"You really get to know the restaurants," said Durocher. "I love sharing that information and creating real relationships with people."
Ever wonder why most of San Luis Obispo's buildings are made of brick, or why all the houses seem to have front porches? And how did local hero and famed developer Alex Madonna get his start? These questions will be answered along with details about Father Junipero Serra and the groundbreaking at Mission de San Luis, Obisbo de Tolosa. Participants will learn how Black Sheep Bar and Grille got its name, and they'll hear the heartwarming tale of how a departed regular got a plaque in a table at Jaffa Café. 
Even jaded, long term residents are bound to learn something new about the many works of public art that decorate their home town or possibly discover a wonderful restaurant they'd always known about but never tried for one reason or another.
"The goal is to entertain people and feed them some dynamic, progressive food, said Durocher. "It's a great activity for tourists, but it's also perfect for Cal Poly alumni doing reunion get-togethers."
It's easy to see why it took just a few months for Central Coast Food Tours to rise to Trip Advisor's top spot for San Luis Obispo Tours.  Between feeding your stomach and feeding your brain, there's not a dull moment. The tour guides are friendly and helpful, willing to answer questions on any topic. They'll help tourists plan their entire vacation, offering tips on local activities, hotels, and hikes.
Because of the tour's busy schedule, guides ask participants to refrain from shopping at any of the stops. However, they do give guests a pamphlet of coupons that people can use after the tour as they meander back to their cars at the end of the day.
The company makes regular adjustments to its tours, so there's always something new on the journey. They also do seasonal events like their summer wine and food pairing that took place every Friday at El Colibri and Spa in Cambria. Be on the look-out for future tours in Paso Robles and possibly a pub crawl in San Luis Obispo.
To book your own delicious adventure, go to www.centralcoastfoodtours.com. Reservations are made online only. Tours cost $65 per person, last between two and three hours, and take place in rain or shine.
— Nick Powell
Subscribe to weekly travel news
comments