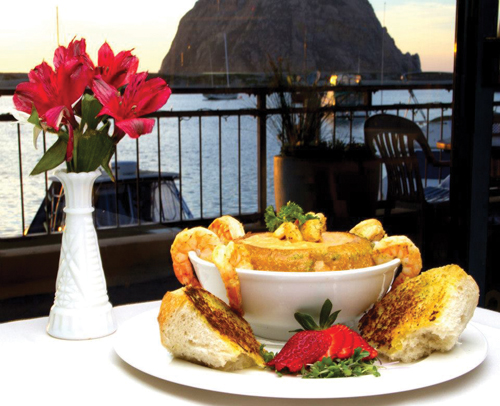 Blue Skye Coastal Café
Denise Robson always had a dream to become a vintner. Instead she and partner Alan Harrison bought Blue Skye Coastal Café on the Morro Bay waterfront in 2010 and became restaurateurs. The couple came to Morro Bay from Georgia where they ran a specialized trucking business transporting high-end automobiles for wealthy owners and celebrities.
Denise had some background in the restaurant business but never as an owner. Since purchasing the café she and Harrison have upgraded the kitchen and refurbished the interior. Blue Skye Coastal Café has an ideal location on the Embarcadero with an abundance of outdoor seating right on the waterfront that has a sterling view of Morro Rock and the sandspit.
"We like to think of this place as a Bistro," Robson said. Some of the offerings and amenities that the couple put in definitely tie in to this idea. Along with the great food on the menu there is beer and wine available. At Happy Hour, every day from four to six, they serve tapas for $4.00 and there are always different Happy Hour specials. "We also have Taco Tuesday," Robson commented, "where you can get two tacos for $3.00." Wines are from Le Vigne Winery who helped pair wine with their food.
Beers on tap are premium beers from Firestone Brewery, Figueroa Mountain, Alaskan Amber, and Pacifico. "During Happy Hour beer is priced at $3.00 a glass and house wine at $4.00.
Robson has fulfilled her dream of being a vintner by developing a house wine with First Crush Winemaking Experience of Paso Robles. "It's a blend with Malbec, Cabernet Sauvigon, and Syrah," Harrison said. She plans to also make a house Chardonnay.
Breakfast is served all day long and locals and visitors alike favor the Blue Skye Benedicts, but there are also omelets, scrambles, and their locally famous breakfast burritos. Lunch offerings include fresh salads and savory sandwiches. Dinner offerings range from the catch of the day to steak and mushrooms. And there is a nice menu for kids that have selections they would like such as Mac & Cheese and Peanut Butter and Jelly. Outside diners are often entertained by area musicians. Vegetarians are well served too. "We have meatless meals on the menu," Robson said, "and we can adapt any of the meals to vegetarian."
Dogs are welcome on the patio and there are heaters outside for those chillier days or evenings. "We also offer free Wi-Fi," Robson said.
The food comes from local farms and ranches, is natural and organic, and is made fresh daily. They serve Joebella Organic Coffee from Atascadero and are making their own blend using beans from Brazil and Ethiopia. The majority of the beef is supplied by Hearst Ranch where cattle are grass fed, and avocados and citrus come from Morro Creek Ranch. "Of course we get our catch of the day from out there," Robson said with a smile as she pointed towards the ocean.
Special events are held at Blue Skye and people can reserve the restaurant for their own special occasion. Robson and Harrison plan to start a beer club where members can bring in a home brew of their own for tasting. Robson and Harrison have also gotten into brewing their own beer at home. "We'll have dinner paired with a beer and we plan to feature Belgian beer along with our current brews," Harrison said.
Other special ideas the couple have are to have a Dinner and a Movie night and to invite local wineries to come in and do wine pairing with foods. They also will be starting a Breakfast Club where they will send out special offers to members via email.
"This is our dream come true," Robson said, "we want to be here for the community because they are here for us." With all these plans and the great food and drink, Blue Skye Coastal Café really lives up to the title of Bistro on the Bay!
— Ruth Ann Angus
Subscribe to weekly travel news
comments