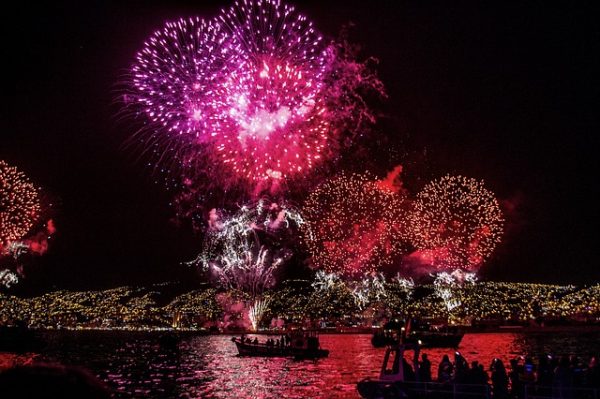 Fourth of July celebrations are taking place throughout San Luis Obispo County. Kicking off in Paso Robles with the Paso Pops Symphony and Independence Day Celebration on July 1, celebration activities include the return of the bluegrass festival to Atascadero, local celebrations in Templeton and Santa Margarita, and fireworks in Cambria, Cayucos, and Pismo Beach.
Paso Pops Symphony and Independence Day Celebration – July 1
Paso Pops, the annual Paderewski Festival-sponsored patriotic-themed concert and Independence Day celebration in Paso Robles combining wine, beer, food, family-friendly activities, live music and fireworks will take place on Saturday, July 1 at the Paso Robles Horse Park, 3801 Hughes Parkway. Gates open at 4 p.m. Deadline for ticket purchases is June 29. "Day-of" tickets are not available. General admission tickets start at $15. Reserved seating starts at $50 and sponsored tables at $100. Purchase tickets or from the Paderewski Festival website.
Atascadero 4th of July Bluegrass Freedom Festival – July 4
From 4-8 p.m. on July 4, Atascadero Lake Park will be filled with the hometown fun of a great BBQ, hometown community spirit, and the celebration of our national freedom! Activities include family-fun amusements and games, vendors, boat relay races, BBQ and a bluegrass concert headlined by Snap Jackson and the Knock on Wood Players. Event is free to attend. To purchase barbecue tickets, click here.
Cambria 4th of July Picnic in the Park – July 4
Fireworks are back! Cambria's old fashioned July 4 celebration starts at 11 a.m. in Shamel Park, 5455 Windsor Blvd. Activities include live music, Waiter and Waitress Balancing Tray Relay Race, Messy Pie Eating Contest, raffle drawings and kid's games and activities. Swimming pool is open 11-6 p.m. Free parking. Free admission. Trolley runs 10-6 p.m. along Main St. and Moonstone Beach Dr to the park. Fireworks end the day.
Independence Day Festivities – July 4
Cayucos hosts the annual sand sculpture contest from 5-8 a.m., a 10 a.m. parade on Ocean Ave., Lions Club BBQ 11-3 p.m., afternoon bingo from 1-4 p.m. and fireworks at the pier at 9 p.m. For more information contact the Cayucos Chamber of Commerce a (805) 995-1200 or email cayucoschamber@gmail.com.
Avila Beach July Boat Parade – July 4
The annual San Luis Yacht Club annual 4th of July Parade of Boats at Avila Pier starts at noon. The parade features decorated sail and power boats, led by the Port San Luis Harbor Patrol fire boat (with water cannon). Event includes patriot music and a miniature cannon. At the end of the pier there's patriotic music and a miniature cannon. Avila Pier in Avila Beach, 11:30- 1 p.m. Free. For more information call the San Luis Yacht Club (805) 345.5468.
4th of July Fireworks Celebration in Pismo Beach – July 4
Celebrate our nation's independence with music, food, and a Grand Fireworks Display from the famous 1,200 foot Pismo Pier. Event is free. Times are 10 a.m. – 9:30 pm. For more information contact the Pismo Beach Chamber of Commerce at (800) 443-7778.
Subscribe to weekly travel news
comments