Art exhibits, classes, workshops and demonstrations for everyone
—You can't miss the large purple building with its iconic mural of Morro Rock in downtown Morro Bay. Art Center Morro Bay is home to all artists and the community. Visitors have enjoyed art exhibits and other art related activities offered by this non profit, volunteer run association since its early art shows in 1951. With a wide variety of classes, workshops and other art related events, Art Center Morro Bay is a destination for emerging to professional exhibitors and art collectors who appreciate compelling exhibits filled with a vast array of quality art.
Art all year
With two spacious galleries and a classroom, Art Center Morro Bay presents about eight exhibits per year. Special juried exhibits have included the Pastel Society of the West Coast, featuring award winning, national and international artists.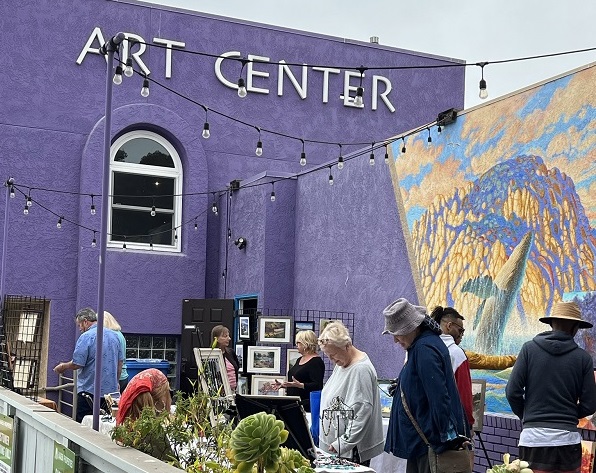 Upcoming exhibits
Exhibits are free to the public from 12-4 p.m., daily. Check the website for art reception dates and times.
Tidal Zone, through April 3, 2023. Artists were asked to capture the exhilarating sensation of the sea for this exhibit. Artists have long been inspired and seduced by the ocean's power. Its beauty can be refreshing, magnificent and seductive. Yet, mysterious vastness can become turbulent, terrifying and downright humbling. Don't miss this immersive exhibit featuring a wide array of ocean themed artworks, accompanied by the sculptures of Anne Grannis.
Featured artist — Anne Grannis
Morro Bay Art Association is proud to feature the sculptures of Anne Grannis through April 3, 2023.
A transplant from New England to California; "I grew up in an artistic family," writes Anne in her artist's statement. "The master sculptors Michelangelo, Rodin and Bernini are my heroes."
Next to sculpting, SCUBA diving is her second favorite activity, drawing inspiration from these surreal worlds where science fiction and mythology merge.
Anne loves creating art from stone carving, pastel painting and fabric. She has taught clay sculpting since she was a young girl. Her sense of whimsy prevails in her popular dream boxes and her figurative sculptures are the very shape of intimacy, created from live models. Whether you are attending this exhibit to observe or to find that perfect painting for yourself or as a gift, you're in for a delight.
Classes, workshops and demonstrations
Free demonstrations by talented artists are presented on the second Monday of each month from 3 -5 p.m. This event is free and open to the public.
Adult art classes and workshops are offered throughout the year, and summer art camp is designed for children over the age of six. Fine art classes and workshops may include, plein air painting, life drawing and abstract design. Craft classes include mosaics, jewelry and other creations for home and garden.
Classes are available throughout the year so check the website regularly.
A history of art and community
Beginning in 1951, seventeen artists met in local homes, hanging their paintings on neighborhood trees, using whatever space was available for shows. The association acquired its current home in 1971 and since opening its doors, has become an integral part of the community.
Art Center Morro Bay works with local high schools to provide an internship program and scholarships to deserving youths. The MBAA is also the proud sponsor of Morro Bay Art in the Park, the second oldest park show in California!
A board of directors run, member-supported non-profit organization, Art Center Morro Bay is completely operated by volunteers. Members are the heart of the organization and membership is open to all. Visit the website to join.
Art Center Morro Bay is located at 835 Main St., Morro Bay, CA, open 12-4 p.m. daily. For more information call (805) 772-2504 or visit artcentermorrobay.org.
comments