Locally-owned and operated bagel establishment serves up delicious delights
Craving a great bagel? How about a specialty salad, sandwich or a cup of soup? Look no further than House of Bagels Central Coast. With two locations in San Luis Obispo and Paso Robles, this local establishment offers something for every appetite.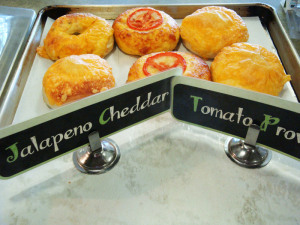 House of Bagels is no ordinary bagel shop – it's a combo bagel, salad, soup, smoothie and more shop! Brimming with a variety of offerings, business partners Mike, Sharon and Bill, along with their friendly staff, serve up tasty offerings seven days a week in two SLO County locations. What's more, they have increased their sandwich offerings with pastrami, roast beef, Italian sliced meats and fresh baked breads including a new Pretzel Roll.
The three friends fell in love with the Central Coast after visiting the area during a few wine tasting weekends. They would often bring along bagels from their previous home locale in the San Francisco Bay area because they were unable to find a decent bagel to purchase locally. Looking to trade the demands of their high-tech jobs and find a more fulfilling option that offered better work-life balance, the new business partners opened the House of Bagels Paso Robles in 2005. As a contract store, the three owners had frozen dough bagels delivered weekly and boiled and baked them daily.
The partners became stronger in the local environment and adopted the concept of 'purchase local, buy local.' They created their own bagel recipe and, with the blessing of the previous contract store owners, broke away and created their own local establishment.
House of Bagels was reformed as House of Bagels Central Coast and a new logo was created. No longer a contract store selling someone else's bagels, the bagels are produced with their own recipes and distributed throughout the Central Coast daily.
Boiled not steamed
Many bagel shops have moved to the "steam and bake" method of producing more bagels in a shorter time at a substantially lower cost. Steaming, however, is just not the same as boiling a bagel. Boiled bagels have a more defined and chewy crust, are smaller in size but not weight and, because they are handled more in the process, the bagel is not uniform in size and shape. This adds to the uniqueness of the bagel and allows the baker to adjust each batch depending on temperature, humidity, and density of the dough. At House of Bagels, every bagel is personally-made to the high standards of quality that Central Coast costumers have come to expect – it's like having a New York-style bagel done locally.
Bagels, salads and more
Want more than a great bagel? Whether looking for a gourmet hot dog, fresh baked goods, or a specialty salad, the friendly folks at House of Bagels Central Coast have it all. They also offer iced teas, coffees and a full espresso bar, and they serve up a full line of Boba teas to compliment their fruit smoothies.
Over the years, the partners have changed their focus a bit and developed the two stores to more of a deli atmosphere. Definitely more than just a regular bagel shop, the friendly folks at House of Bagels Central Coast offer a variety of food and drink choices – and their loyal customers keep coming back for more. 
Stop by House of Bagels Central Coast in San Luis Obispo at 158 A Higuera St., (805) 594-1818 and in Paso Robles at 601 First St., (805) 237-1818. Both locations are open daily 7 a.m.-3 p.m. – call ahead to have an order ready for pickup or dining in. Find a complete menu and learn about the daily specials at houseofbagelscc.com; delivery available through MenuClub.com.
– By Meagan Friberg
• Pumpkin bagels – perfect for fall & winter
• Soups – warm up on a cold day
• Monthly special – sandwich, chips, soda & salad
• Full espresso bar
"House of Bagels Central Coast is dedicated to the highest quality products, the best service and a friendly atmosphere where you and your friends will enjoy a repeatable great experience."
– Mike
comments