Paso Robles winery honors tradition with 24-foot 'altares de muertos'
Some believe spirits from the dearly departed come back to this realm to provide advice to loved ones. The Mexican traditions of visiting gravesites, maintaining, and setting up altars of remembrance for the celebration of the Day of the Dead, or Dia de los Muertos, have been happening for around 3000 years. In Mexico, altars are placed in homes and in churches, however, the United States typically uses them in museum exhibits.
In Paso Robles, a special winery has joined in. For more than ten years, the small 15-acre family farm, Via Vega, hosts an annual Día de los Muertos Fiesta, and they have set up a sprawling altar of heartfelt photographs and offerings. Altars traditionally known as altares de Muertos, or ofrendas, are the most prominent feature in the celebration, because they guide the souls back home. At Via Vega, the tasting room transforms from a casual place to an exceptionally decorated and emotionally moving space.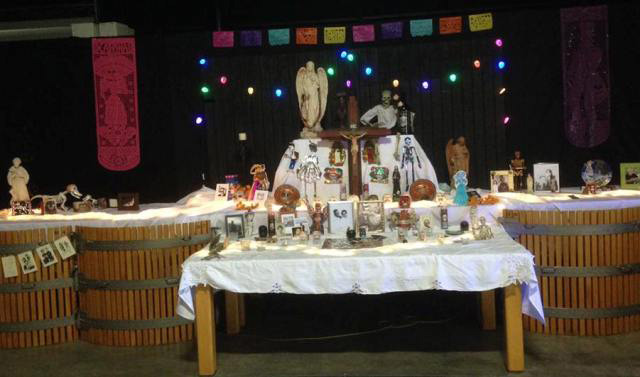 Their altar is set up early in October to allow friends, family and visitors to experience this beautiful time of remembrance. Visitors may come in and place a photo, light a candle and toast with a glass of wine, to the memory of their departed. When the winery started celebrating this holiday 11 years ago, the winery had to do some more explaining about the decor… now, thanks to movies and pop art, more people have some familiarity and want to honor their own loved ones and pets. The winery gives them the place to do that. It is truly a community altar. It started with an 8' altar and it's grown to a 24' display. The winery is adding more sugar skull and crafting workshops related to the holiday to their schedule this fall.
Día de los Muertos isn't about mourning or sadness, it's about joy and remembrance, and to join the living and dead together to celebrate. The ritual of Day of the Dead goes back to Mesoamericans, and continues to this day, because it is relevant for so many multi-cultural people. Day of the Dead is spreading nationally, and it appeals to people who are connected in spiritual ways, and who are esthetically pleased, by the wide array of colorful décor and festivities that the holiday encompasses. Celebrating the dead and honoring the ones we have lost is done comfortably and beautifully in the tasting room of Via Vega.
Bring to Via Vega your precious mementos, and pay your respects to the past, enjoy the present, and toast to the future. The winery is located in the scenic and historic city of El Paso De Robles at 2378 Adobe Rd. More information can be found at their website, www.viavega.com, email info@viavega.com, or call (805) 423-2190. Via Vega's tasting room is open Fri-Sat 11 a.m. to 4 p.m and Sun 11 a.m. to 2 p.m.
-Cassandra Frey
comments