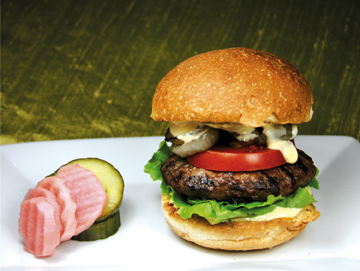 There's a new restaurant and bar near San Luis Obispo's Fremont Theatre on Monterey Street, and it's doing big things with the small space. Luna Red is where European flavor and sophistication are complemented by California's casual style and concern for the environment, where the stimulating décor features modern art tempered by traditional antiques, and where great food meets fine wine for a party on your palette. A restaurant this good only comes around once in a red moon.
The eclectic and competing influences work well because the owners of Luna Red, Robin Covey and Shanny Covey, know a thing or two about the restaurant business. They already operate two of the county's best-loved eateries: Novo in San Luis Obispo and Robin's in Cambria.
"I eat out a lot," said Robin. "Most of the time it's just nice, but sometimes I still get wowed, and that's what I want to give to my patrons. I want dining at Luna Red to be something you don't forget."
Their new location was once a cavernous bus station, but Robin remodeled it to eliminate the echoes in the high ceiling and create an inviting ambiance, all while retaining some of that historical charm. In fact, the two red spheres that hang above the bar and give the restaurant its name aren't mere decoration. They're copper coated and specifically engineered to dampen sound, keeping background noise low so that diners and drinkers can talk leisurely.
"The warmth and intimacy of the restaurant really encourage conversation and good dinner parties," Robin said.
The menu draws from the Spanish dining style of serving tapas, which are little plates of appetizers or snacks. At Luna Red, there are plenty of tapas to please everyone, including crispy carrot-cumin falafel balls, piquillo peppers stuffed with goat cheese, and albacore tartare with avocado and hot mustard sauce. The idea is to order enough tapas to feed everyone, a practice that encourages passing plates around the table and gets people talking and having a good time.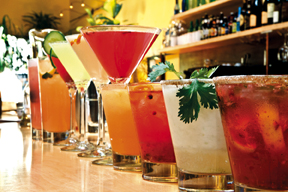 Of course, a little wine can also get the conversation going. Robin's goal with Luna Red was to create an environment and menu that highlights the area's wonderful wines. Their extensive wine list includes over 100 vintages, most of them local, and they also serve a variety of beers and sake. To complement the wine, Robin decided to focus on house-cured meats and artisan cheeses. His cheese flights are loaded with flavor and creamy textures. The pungent cheeses are complemented with servings of honeycomb, fruit slices, and caramelized nuts.
"We get our breads from Hush-Harbor Bakery in Atascadero," said Robin. "In my opinion, their bread is unparalleled, and it goes perfect with our cheeses."
The bread is one of only a few items that Luna Red has delivered to the restaurant. They get their goat cheeses from Happy Acres in Templeton and their extra virgin olive oil from Mt. Olive in Paso Robles. Other than that, Executive Chef Shaun Behren strives to make everything he can on site, even the ketchup, which is more of a tomato marmalade, and his own flavor-infused sugar cubes. That kind of attention to detail really makes the food shine.
Besides the edict to offer wine-friendly cuisine with house cheeses and meats, Behren was given free reign to design a menu that meets his personal tastes and expectations. The result is a constantly evolving selection of fresh cuisine that's built upon a foundation of local produce.
"The world is changing," said Behren. "We can't get food shipped in from around the world in a way that's ethical or cost effective."
Instead, Behren relies on a network of local farmers and sustainable seafood programs to hand craft food that's delicious, healthy, and earth conscious. The menu changes with the seasons, allowing Behren to serve only the ripest fruits and vegetables. During the spring months, he highlights the region's plump strawberries, crisp asparagus, and artichokes. He shifts to tomatoes and squash throughout summer and relies on mushrooms and root vegetables in the fall and winter.
"I try to use the whole vegetable, so we don't leave any waste," said Behren, who garnishes plates with otherwise useless carrot tops and uses the leftover juices from his roasted beets in his house made vinaigrettes. "We're taking the sustainability element to a whole new level with this place."
With produce so central to the menu, it's no wonder that the chef's and the owner's current favorite dishes are salads. Behren said he's been eating a lot of the grilled and chilled asparagus salad with pickled onions and mozzarella, and Robin loves the refreshing flavor of the spring salad. It has sugar snap peas, radishes, sprouts, and a citrus dressing with goat cheese.
Robin also enjoys the scallop ceviche, which features raw scallops tossed in a white miso sauce with lemon juice. A sprinkling of kettle corn adds a unique twist to the popular dish.
"I'm sort of blown away by it," said Robin. "It's sweet but not overpowering."
It's not all tapas and salads at Luna Red. They also serve full-sized entrees for dinner (try the crab lasagna) and a lunch menu that elevates burgers and sandwiches to gourmet status. The Luna burger has grilled onions and garlic-infused mayonnaise.  Aged white cheddar complements the open-faced pastrami sandwich, while caramelized onions add a hint of sweetness.
On May 2, Luna Red got its hard liquor license and now runs a full bar, open until midnight on the weekends. Robin expects to host regular jazz and blues musicians on Fridays and Saturdays so guests can sip cocktails and tap their toes to the rhythm over dinner. Robin said that chefs will keep the food coming for as long as the doors are open. In fact, the dessert and salad chefs prepare all of their dishes at the bar in plain sight of patrons, part of their open cooking philosophy.
"It's a chef-inspired cocktail list," said Behren. "You'll see a lot of berries, mint sprigs, and freshly squeezed citrus juice in our drinks."
For more information on Luna Red or to make a dinner reservation, call (805) 540-5258. You can view their full menu online at lunadedslo.com or drop by 1009 Monterey Street for a meal you won't soon forget.
—By Nick Powell
Subscribe to weekly travel news
comments