Artisan chocolates in San Luis Obispo
The "Ganache" found in San Luis Obispo's Mama Ganache artisan chocolate shop is a French word for the rich, sweet, luscious mixture of heavy cream and chocolate used in truffles, fillings and frostings. Considered the "mother of all chocolate fillings," it is the core, literally and figuratively, of any serious chocolate shop.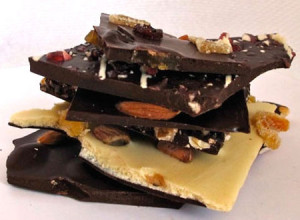 If ganache is a foreign term to you, a great way to remember the name of the shop is "OMG," the popular acronym for "Oh, My Gosh." Not only does it rhyme with Mama Ganache, it also adequately expresses the sensory explosion you'll experience upon visiting the retail store.
Stacked behind glass shelves, overflowing from bowls, trays and boxes –there are truffles, bars, barks, cakes, chips and flakes of chocolate. There are chocolate fountains, chocolate sculptures, chocolate shakes and even vegan treats.
And these aren't just any chocolates; Mama Ganache sticks to its founding principles to "help the Earth and the people who depend on it" one truffle at a time, by using certified organic and fair trade chocolate grown in Central and South America. The company also supports the nonprofit Project Hope & Fairness, started by Mama Ganache president and chocolatier Dr. Tom Neuhaus to help develop fair trade chocolate farming programs in Africa. Recently, Dr. Neuhaus worked to raise funds for 21 Ivorian villages and developing International Cocoa Study Centers for university students and farmers to work together on issues relating to economic and environmental sustainability.
Neuhaus, a Cal Poly professor of Food Science and Nutrition, and his sister Joanne Currie, owner of Splash Cafe, started Mama Ganache in 2004 as a fun, family collaboration. In 2009, they opened their retail location down the street from the Splash Cafe/Mama Ganache bakery.  Neuhaus' wife Eve started the store in 2009 and made it into the attractive blend of chocolate paraphernalia, artwork, and many types of chocolate; this tradition is being maintained by the staff that she hired and trained.
Pointing out an intricately carved and painted chocolate sculpture of Ganesh, one of the most widely worshipped Hindu deities, Eve explains that there is a second, hidden meaning to the store's name. Having recently published a book about her guru Ganesh Baba, the play on words dawned on her.
"The name 'Baba Ganache' came to me first and then we decided that 'Mama Ganache' was the best variation. I love the name; it has so much character," she says. "We have such a variety of flavors that you are always in for a pleasant surprise."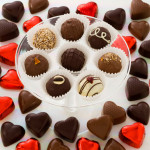 For those looking to heighten their chocolate awareness, schedule an hour-long tour of the facilities that includes a visit to the kitchen and a slideshow on the history and culture of chocolate—interspersed with tastes of truffles, of course. Not up for the tour? A cozy sofa is always available for guests who want to enjoy a screening of the film Chocolat, while sipping a cup of spicy Aztec hot chocolate (regular or vegan) on a cold, rainy day.
Mmmm, OMG – that sure sounds nice.
Claim your spot on the couch and do some ganache'ing at 1445 Monterey Street in San Luis Obispo, open daily. For tours or more information, call (805) 782-9868 or visit mama-ganache.com.
– Jamie Relth
comments