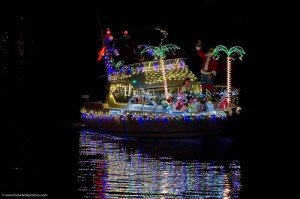 After being postponed last week because of frigid temperatures and high winds, organizers say the annual Morro Bay Lighted Boat Parade will get under way at 6:30 p.m. this Saturday, Dec. 14. Word came down from Morro Bay Tourism Director Karin Moss on Friday afternoon.
During this annual holiday tradition sponsored by the Morro Bay Rotary Club, viewers line the Embarcadero to watch decorated boats of all shapes and sizes glow with twinkling lights as they tour the bay.
More than 20 boats are expected to participate this year, and there will be two announcers – one at Dutchman's Seafood House, 701 Embarcadero, and another at the South T-Pier – to describe each entry and point out highlights to the crowd.
Holiday music will be provided by the White Caps Community Band, beginning at 6 p.m.
No detail is too small for the owners of these vessels, who spend many weeks designing and installing exceptional lighted displays to fit their boats. Some are animated, many have their own music, and the goal is always to outdo entries from the previous year.
Prizes are awarded for the best-decorated crafts in a variety of categories. Coffee, hot chocolate and other treats will be available, along with Lighted Boat Parade T-shirts and sweatshirts for sale.
comments