Morro Bay is a sightseers delight
Explore the natural beauty of Morro Bay, the town famous for its mystical morning fog and fishing. Whether for a day or a week this small town by the Rock has something for everyone.
Morro Bay is bursting with exciting activities. There's deep sea fishing, whale watching, world-class surfing, hiking, biking, and kayaking, and camping under the stars.
When it comes to birdwatching, there's little doubt that Morro Bay provides the best chance for seeing a great variety of species. It's an incredible birding spectacle. And birds aren't all. There are harbor seals, sea lions, and sea otters.
Looking to take a slower pace? Stroll down the Embarcadero and browse gift shops and art galleries. Explore the local cuisine and dine on fresh caught fish. Find the perfect wine to complement your meal from area wineries.
Sit on a bench in Tidelands Park and watch the boats leaving the harbor or take a walk on the beach and watch the waves. Walk out the harbor boardwalk to Morro Rock, the 576-foot volcanic plug that looms over the bay and seashore. Keep an eye out for sea otters that rest in the kelp beds near the shore.
Head into Old Town and you will find a variety of specialty shops, antique galleries, restaurants, and coffee shops. Book a stay at one of the fine motels. And take in a movie at the town's first rate theater. Tee up and enjoy an afternoon hitting the greens at the 18-hole championship golf course where every hole has a view of the bay.
No matter what you choose to do, a stay in Morro Bay is always exceptional and sure to make you want to return again and again.
Attractions
Morro Bay Maritime Museum
This museum has been preserving and interpreting the maritime history, especially that of California since 1995. The current fleet on exhibit includes the tug boat "Alma" that rescued sailors from the December 1941 Japanese attack on a Union Oil tanker off the coast of Morro Bay and the "Avalon," one of two Deep Submergence Rescue Vehicles (DSRV) submarines designed to rescue crews of downed submarines. The museum is located at 1210 Embarcadero in Morro Bay. For hours visit morrobaymaritime.org.
Morro Bay State Park
Morro Bay State Park features lagoon and bay habitat, all in view of Morro Rock. The park has opportunities for sailing, fishing, hiking and bird watching and features a marina and an 18-hole golf course. For more information about Morro Bay State Park, visit parks.ca.gov. The Morro Bay Golf Course is located at 201 State Park Rd. Call (805) 772-1923 for hours and tee times.
Morro Rock
Take a walk and explore the beautiful Morro Rock. Follow Embarcadero Blvd North to Coleman Drive. The Rock provides habitat to the peregrine falcons. Otters sometimes raft in the channel. Climbing the Rock is illegal.
Morro Bay State Park Museum of Natural History
The Museum of Natural History, located within Morro Bay State Park, is a fun place to explore, discover, and learn about habitats of the area and impacts of natural and human forces through hands-on displays, activities, and events. For more information about Morro Bay State Park, visit parks.ca.gov.
North Point Natural Area
Operated by the City of Morro Bay, the North Point Natural Area has a stairway that leads down to the beach. Once on the beach, walk north to Cayucos or south to Morro Rock. The beach has one of the best tidepool areas. In the spring, the meadow is full of blooming wildflowers. The entry is located on Toro Lane in Morro Bay.
Giant chessboard at Centennial Parkway
According to the United States Chess Federation, the Giant Chessboard is one of only two outdoor chessboards in the United States. The other is located in New York City. The Morro Bay Chess Club installed chess tables and benches adjacent to the Giant Chessboard. The Giant Chessboard is available for reservations through the Morro Bay Recreation Services for a small fee. Visitors are welcome to join the Morro Bay Chess Club on Saturdays beginning at noon. The chessboard is located in the Centennial Parkway, 806 Embarcadero, Morro Bay. For more information call (805) 772-6278
Dining & drink
Chablis Cruises
Treat yourself to a delicious meal and incredible vistas of Morro Bay Harbor aboard Chablis Cruises. Featuring weekly chowder and sightseeing cruises. Visit chabliscruises.com, (805) 772-212
The Bayside Café
Located at the State Park Marina it's the best kept secret on the Central Coast. Seafood dinners, such as fresh fish, steamers and fish and chips. Meatloaf served Thursday nights. Lunch daily starting at 11 am, Dinner Thursday-Sunday 4-8:30 pm. Located across the street from the State Park Campground entrance. (805) 772-1465.
Blue Sky Bistro
Waterside location with casual dining indoors or out. Fresh fare & comfort food for breakfast, lunch & sunset dinners. Fresh seafood with south of the border selections and clam chowder bread bowls.  Pet-friendly. Located at 699 Embarcadero, Morro Bay. For more information visit bistroonthebay.com or call  (805) 772-8988.
The Dough Connection 805
SLO county's first and only cookie dough scoop shop! The Dough Connection specializes in small batch, unique, safe to eat cookie dough dessert and more with waterfront views. Located at 913 Embarcadero, Morro Bay. Visit the Dough Connection 805 on Facebook or call (805) 225-1760.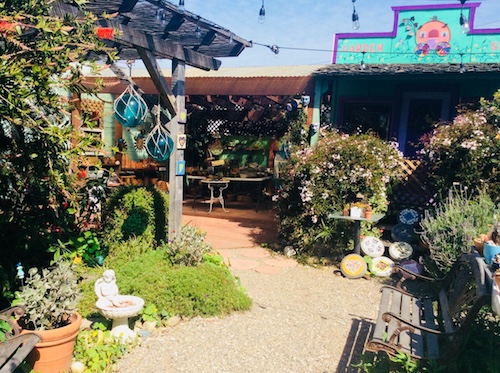 Shopping
Farmer's Markets
Morro Bay has two weekly markets on Thursdays 2-4:30 p.m. at 2650 Main St. and Saturdays 2:30-5:30 p.m. at Main St. and Morro Bay Blvd.
Beads By The Bay
The only Bead and Garden store on the Central Coast! Old-town charm with a hidden nursery behind. Beads
from around the world, charms, findings, tools and repairs. Tillandsias, succulents, miniature garden accessories and more! Open daily. Located at 333 Morro Bay Blvd. Visit morrobaybeads.com or call (805) 772-3338.
Art Center Morro Bay
The Gallery has become a hub for fine art. They offer many opportunities to purchase beautiful, local drawings,
prints, sculpture, jewelry, cards and more. Meet the artists at receptions that are open to the public, take classes and workshops and just browse the galleries. For more information visit artcentermorrobay.org,
Achievement House
A perfect destination for thrifters looking for those special treasures. This thrift store is run by NCI Affiliates and Achievement House,  dedicated to providing services that encourage and support individuals with disabilities. Located at 730 Morro Bay Blvd. For more information call (805) 772-6744.
The Garden Gallery
Spend an hour or several browsing this  exquisite multi-level, many-rooms shop on the Embarcadero. Find unique home decor, personal accessories, plants and garden decor and more. Located at 680 Embarcadero, Morro Bay. Visit thegardengalleryinc.com or call (805) 772-4044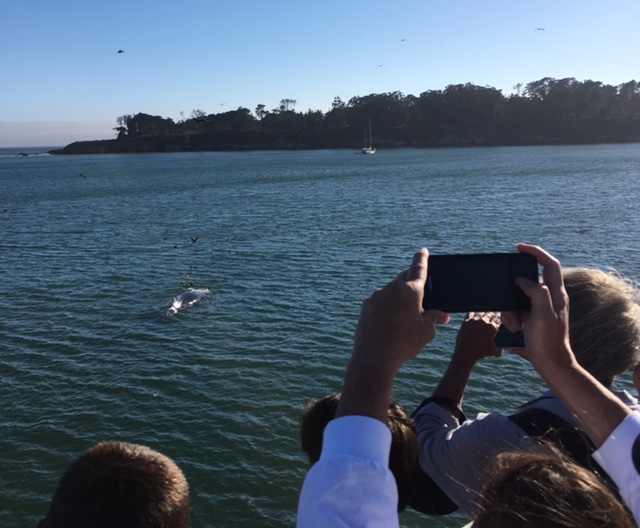 Whale watching & fishing charters
Morro Bay Whale Watching
Take a leisurely tour of the bay and estuary for whale watching, birdwatching and observing the animals of Morrow Bay waters and shores. Canoe, kayak and paddle board rentals. For more information visit morrobaywhalewatching.com.
Morro Bay Fishing Charters
Book a small, private charter for friends and family. No fishing experience needed because Captain Shawn provides coaching and assistance. Bring the kids! For more information visit morrobayfishingcharters.com.
Lost Isle Cruises
Relax, have fun and leave all your worries on the shore with a cruise around the bay. Bay cruises, whale watching, sunset cruises and private tiki boat tours. For more information visit morrobaytikiboat.com.
Rock Kayak Rentals
Your adventure begins with kayak and paddleboard rentals and lessons. For more information visit rockkayak.com.
Lodging
Sandpiper Inn of Morro Bay
Comfortable, clean pet-friendly downstairs rooms in the heart of scenic Morro Bay. The Sandpiper overlooks the bay with views of Morro Rock, sunsets and the coming and going of sea life and on the water bay activities. Located at 540 Main St., Morro Bay. Reservations and more information at morrobaysandpiperinn.com or call (805) 772-7503.
The Inn at Morro Bay
A peaceful retreat, luxurious rooms, dining, bar, pool and spectacular views of the bay, sea life and sunsets. Complementary WiFi and coffee. Accessible and pet-friendly rooms available. Located at 60 State Park Rd., Morro Bay. Reservations and more information at innatmorrobay.com or call (805) 772-5651.
Beach Bum Holiday Rentals
After a day of exploring, surfing or shopping, head back to your beautiful, comfortable vacation rental in a quiet, serene neighborhood. Find everything you need to know about booking your reservation at www.beachbumreservations.com or (805) 773-7194 or call the reservation hotline at (866) 737-7367.
Rock Star Properties, Inc. Vacation Rentals
Stay at the nicest ocean view homes in Morro Bay.   Offering personalized service to help you make your vacation a great success.  For reservations or more information visit rentmorrobay.com or call (805) 225-1866.
Morro Bay Travel Guide stories
Top things to do when visiting Morro Bay, CA
comments