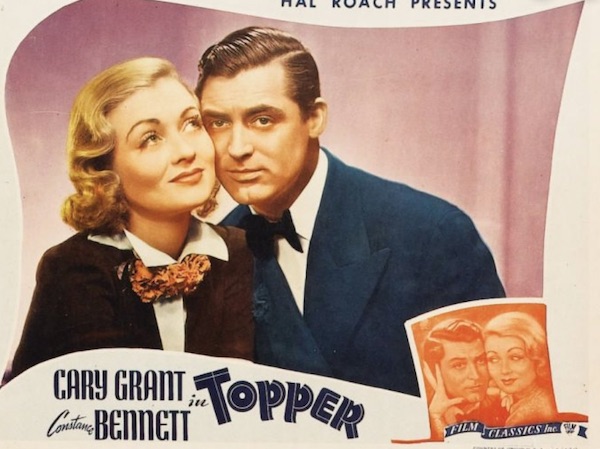 –Enjoy the 1937 Academy Award winner, "Topper" starring Cary Grant and Constance Bennett on the big screen once again Sunday, Sept. 8, 2019, at 7 p.m. at Park Cinemas in Downtown Paso Robles as part of Pajama Movie Night. Popcorn and soda are included in your $10 ticket. The event starts at 7 p.m., so arrive early for best seating (in the all-easy, high-back chairseats) Park Cinemas, 1100 Pine Street, Paso Robles.
George (Cary Grant) and Marion Kerby (Constance Bennett) are a young, happy-go-lucky couple who love to party. But after a car accident kills them both, they discover that they haven't done enough good deeds to earn a trip to heaven. To remedy this problem, they decide to help their old uptight boss, Cosmo Topper (Roland Young), live a little. While Topper begins to take their ghostly advice and enjoy life for a change, his controlling wife finds her husband's laid-back behavior infuriating.
Tickets are limited and may be purchased now for $10 per person, available through the Paso Robles Main Street office at 835 12th St., Suite D, in the "Norma's Way" alley, or by telephone (805) 238-4103. Visa, Mastercard, American Express and Discover accepted.
---
Elder Placement in San Luis Obispo, CA
Need help finding the perfect place for your loved ones?  Elder Placement Professionals can help place your loved one in a San Luis Obispo Assisted Living facility. Also Nationwide.
Elder Placement Professionals
San Luis Obispo, CA 93401
United States
comments