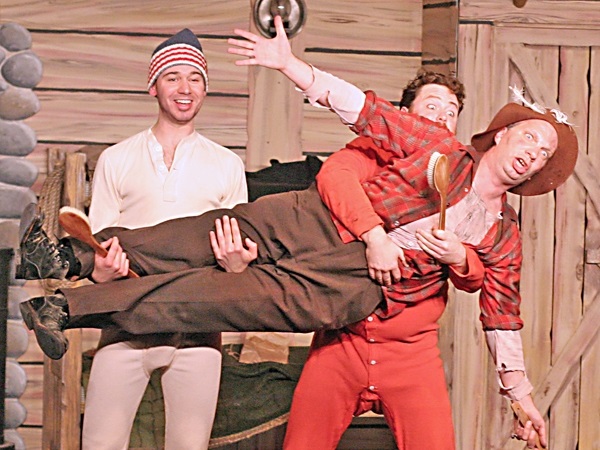 Audience favorite returns to open the 2023 Season
—It's 1912 at the Haywire Logging Camp in Minnesota, 200 miles from the nearest town. Lumberjacks Slim, Muskrat, Dirty Bob, Moonlight and The Kid live their bachelor life. However, when Slim accidentally orders himself a mail-order bride named Rose, their simple shanty lives are turned upside down. Lumberjacks in Love is a rip-roaring, hilarious musical comedy by Fred Alley and James Kaplan. Originally produced at the Northern Sky Theatre in Door County, Wisconsin, this show has been a hit with audiences at the Melodrama in two previous productions over the years.
Lumberjacks in Love is directed by John Keating, a Wisconsin-based theatre artist who performed in the Melodrama's previous production of the show. He is joined by Andy Hudson at the piano as Music Director. In addition to the piano, the cast will play rustic instruments during some songs in the show, including a custom-made cigar-box guitar built by Melodrama alum, former Lumberjacks in Love cast member and PCPA instructor George Walker.
The cast of Lumberjacks in Love is full of Melodrama favorites including Toby Tropper as "Dirty Bob," Antwon Mason as "Minnesota Slim," and Mia Mekjian as "Rose." They are joined by PCPA grads Syndey Ennis, Garrett Haven and Nathan Miklas.
In addition to Lumberjacks in Love, the performance features a third-act musical Vaudeville revue called A Culinary Cabaret directed by Eric Hoit.
Established in 1975, The Great American Melodrama is a professional theatre located in Oceano, California, just three miles south of Pismo Beach. All shows are fun for kids, grandparents, and everyone in between.
The Great American Melodrama is located at 1863 Front St., Oceano, CA 93445. The show runs Wednesdays-Sundays from February 3 through March 25. Showtimes are 7 p.m. Thursday and Friday, 2 p.m. and 7 p.m. Saturday, 6 p.m. Sunday. Doors open 30 minutes before showtimes. Tickets can be purchased in advance online with prices starting at $30 and incredible discounts for season pass holders! To purchase tickets, for curtain times, discounts and more information, visit www.americanmelodrama.com.
comments