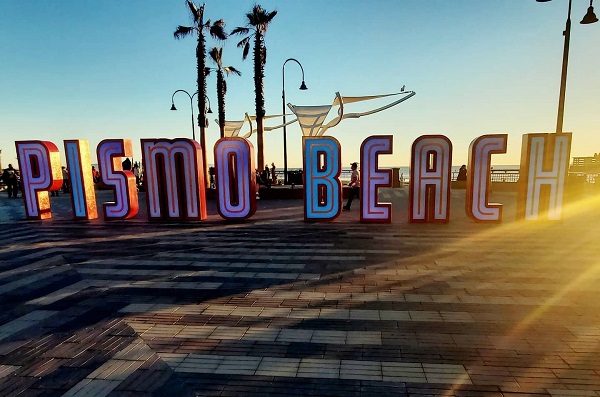 —The Pismo Beach Pier Plaza is easy to find, just look for the seven-foot-tall bright letters spelling out Pismo Beach and a giant slide leading through the plaza floor to the beach.
The freestanding letters light up in different colors and the "P" features a ruler so kids of all ages can measure their height.
The slide is a feature of the nature-themed colorful Whale Surfing Playground that includes a Humpback whale creating waves as it breaches, the Clam slide and surfboards. The inspiration for the playground comes from the marine life, local nature and surfing culture around Pismo Beach.
Attractions include the three vintage Airstreams, housing the Pismo Beach visitor center and concessions featuring gourmet street food, local beers and wine and the Shell Beach Streetscape.
The Shell Beach Streetscape features an 18-block walking and cycling path with updated waterways, landscaping and bike racks. The path meanders past shops and cafes, in full view of the great outdoors.
The sign, playground and other features are part of an extensive $7.5 million improvement project that also added improved parking, public restrooms, and ADA access to the beach.
The Pismo Beach Pier Plaza can be reached by taking either Main Street or Pomeroy Street. The pier is open from 7 a.m. to 7 p.m. daily. Businesses located on or near the plaza may be open later. For more information visit experiencepismobeach.com.
comments