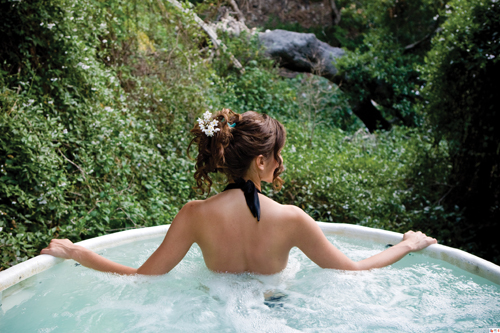 San Luis Obispo's fountain of youth
A trip to Sycamore Mineral Springs Resort can lighten the soul, rejuvenate the skin, and melt stress like lavender scented wax. Guests leave feeling younger and refreshed. "This resort is really about wellness and relaxation," said Charles Crellin, General Manager of the Resort. "It lets you experience nature in a comfortable environment."
Naturally occurring hot springs feed private patio hot tubs in each of the hotel's 72 rooms. Water is heated deep in the Earth's crust by fiery magma, causing it to rise through layers of rock and soil, soaking up minerals such as sulfur, which your skin needs to produce collagen for elasticity. The resort then captures the water and pipes it into tubs that sit on outdoor patios, giving hotel guests the opportunity to soak leisurely amidst the greenery and chirping of birds.
There are also private hillside hot tubs available for rent by the hour; open from 8 a.m. to midnight. Larger parties can rent "The Oasis," a 20-person private tub that's filled via cascading waterfalls.
"Mineral springs are known to have a lot of health benefits," said Crellin. "The heat and the sulfur are often considered to help relieve muscle pain and the symptoms of skin conditions."
Services at Sycamore Mineral Springs Resort don't stop there. Let massage therapists rub your aches away with a variety of packages and oils. They provide hot stone treatments, deep tissue massages, and more. Every massage includes a complimentary 30-minute soak in one of the mineral tubs. The spa also offers full service facial treatments, skin rejuvenation peels, and body treatments.
"We offer all kinds of unique packages and combinations of services so that there can be something for everyone," said Crellin.
The beautiful, 125-acre environment is lush with plant life. Guests are greeted by an awe-inspiring Chinese Empress Tree that stands before the hotel lobby and boasts thousands of pink flower buds. Ancient sycamores dot the grounds, their twisting trunks providing cool shade and aesthetic stimulation, and an array of native shrubs and flowers fill the air with fresh oxygen and soothing aromas. Signs occasionally remind guests that they are entering quiet areas, where cell phones and smoking are prohibited and everyone can enjoy the peaceful sounds of nature.
"The best part of working here is being able to walk the grounds every day," said Crellin. "It's such a wonderful micro-climate: the beach air surrounded by green hills."
Two popular trails are adjacent to the property: the Bob Jones Bike Path and the Sycamore Crest Trail. The bike path is paved and leads from San Luis Obispo to the sandy shores of Avila Beach. Of course, you don't have to walk anywhere – bell-men are always on-call with golf carts to carry you and your luggage to any part of the property.
An assortment of mind and body classes are offered in the Yoga Dome; daily Pilates, Tai Chi and Yoga classes are available to the public and complimentary for hotel guests.
Room rates vary throughout the year and are surprisingly affordable considering the many benefits such as balcony hot tub, coffee maker, mini-fridge, and free Internet. Whether in search of a standard room, a romantic suite complete with fireplace and four-poster bed, a 3-bedroom guesthouse with a full kitchen or a bungalow-style West Meadow Suite, the choices are plentiful.
Enjoy fresh, local, spontaneous garden cuisine at The Gardens, Sycamore's on-site restaurant and bar. Open daily for a fresh Juice Bar, Breakfast, Lunch and Dinner, The Gardens offers a variety of fresh, healthy, unique dishes. The Gardens Executive Chef, Gregg Wangard focuses on expanding Sycamore's green and organic effort while supporting and incorporating local resources. Chef Gregg makes daily trips out to Port San Luis to visit local fisherman and purchase their fresh daily catches. Stop by The Gardens and enjoy a refreshing, delectable meal in a serene setting!
Sycamore Mineral Springs Resort is located between San Luis Obispo and Avila Beach, at 1215 Avila Beach Drive. Call (805) 595-7302 or visit www.sycamoresprings.com for more information.

comments