Pismo Beach restaurant has delivered fresh, local seafood in a casual atmosphere for over 20 years
–The Cracked Crab is a one-of-a-kind restaurant on the Central Coast. Visiting Pismo Beach has to include a sampling of the best the sea has to offer at the Cracked Crab.
When the original owners moved from the east coast, it quickly became apparent that a true seafood restaurant was missing. Cultivating relations directly with local fishermen, farmers, and single processors, the Cracked Crab has become one of the most successful restaurants in San Luis Obispo County. It is an intimate restaurant that requires nothing more than bringing an appetite.
Executive Chef Svyatoslav Popovich takes the best of what is in season and updates the menu to reflect the market. Order their signature bucket and they will layout the butcher paper to present three types of the highest quality shellfish to dig right into. Delicious sides made with local ingredients accompany the trifecta to round out the meal. General Manager Jamie Habig points out, "We strive to serve the best seafood available, whether it be locally caught fish or Alaskan Crab. Much of what we serve, especially our Alaskan Red King Crab, is of a quality unavailable to most other restaurants."
When it comes to the ingredients the Cracked Crab chooses to utilize, it is consistently of the highest grade. The flavors of each dish reflect their choices. And for non-seafood lovers, there are plenty of entrees to please the palate- from a Berkshire Pork Chop, to Mary's Roasted Chicken Dinner, and Certified Angus Beef for those who crave Filet Mignon. To pair with the food, a great local wine selection is offered, thanks to the Cracked Crab's direct relations with Edna Valley's wineries.
Not only are the owners deeply invested in developing the best connections for the business, they take care to staff the Cracked Crab with the friendliest folks they can find. In lieu of advertising, the restaurant depends on customer service to help spread the success. Attentive servers help provide a comfortable dining experience. They promise, "The finest seafood available, served in a most casual style." This creates the perfect place for the whole family to sit down and have an easy meal, especially after a long day on the beach.
Going into their 20th year, the Cracked Crab has a recently opened patio with a gorgeous living wall. The patio is available for private events including intimate wedding receptions, rehearsal dinners, birthdays, anniversaries, reunions and business meetings. When not reserved for a private event, the patio is open to diners.
The Cracked Crab is located walking distance from the pier at 751 Price St, Pismo Beach. They are open Sunday thru Thursday 11 a.m. to 9 p.m. and Friday thru Saturday 11 a.m. to 10 p.m. For more information contact (805) 773-2722 or visit www.crackedcrab.com.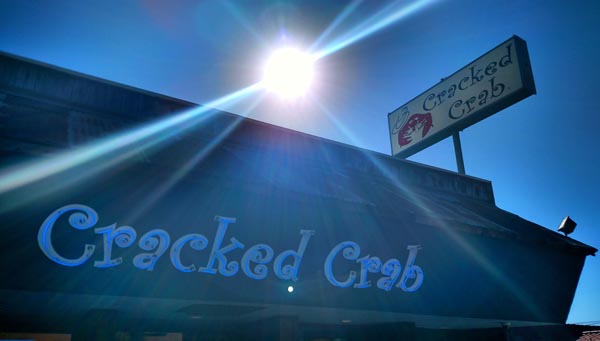 comments