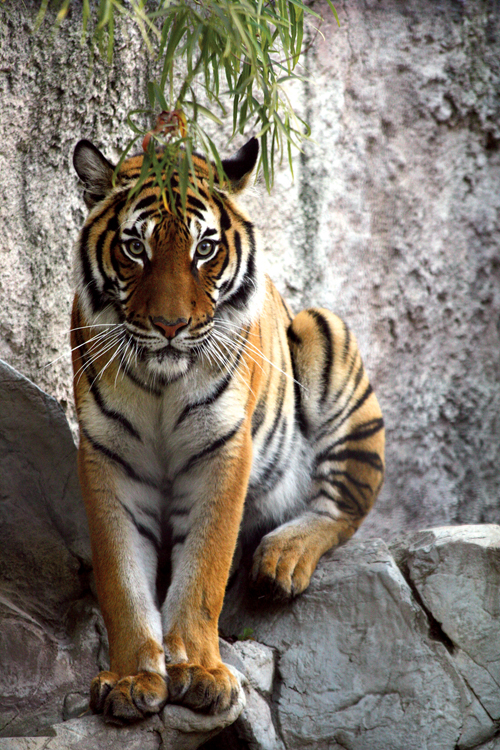 Charles Paddock Zoo
Nestled on thirty-five park like acres off of Highway 41 in Atascadero, the Charles Paddock zoo is the only zoo on the Central Coast. With over one hundred animals, the zoo aims to provide a natural habitat for its residents. More than just your friendly neighborhood zoo, the location is part of a worldwide effort to preserve endangered species and provide them with the means to propagate and prosper.
Charles Paddock was a local park ranger who, in 1955 began rehabilitating animals. His collection of animals reached over 125 and by 1963, the assortment of creatures was moved from the county shelter facility to its current site on Highway 41. Since then, the zoo has changed dramatically and become only one of two hundred twenty accredited zoos in North America by The Association of Zoos and Aquariums (AZA). Zoo Director Alan Baker describes the accreditation process (administered every five years) as "rigorous" and proudly mentions that the Atascadero Zoo has been accredited four times. He says, "We have those professional standards. It also means we can hire people with incredible expertise that want to be in the field." He adds, "Our collection here is kind of eclectic. People that go to other zoos are often surprised. We have things like red panda, fossa—things that are a little more unusual. What we're doing is focusing on animals that we can do in our size zoo."
According to their website the AZA, are "Zoos and aquariums that are leaders in the protection of endangered species. Twenty years ago, AZA established the Species Survival Plan Program™ (SSP), which is a long-term plan involving conservation breeding, habitat preservation, public education, field conservation, and supportive research to ensure survival for many of the planet's threatened and endangered species." As part of this prestigious group of zoos in the world, the Atascadero Zoo is part of worldwide efforts to rejuvenate various species and has a number of SSP animals on display – red ruffed lemur, black-handed spider monkey, red panda and the Malayan tiger – as well as a few cared for behind the scenes. The SSP (in zoos around the nation) has helped animals like the California condor, American bison, black footed ferrets and golden lion tamarinds return to the wild and their numbers have grown since then.
The zoo is open everyday of the year with the exception of Thanksgiving and Christmas. Winter proves to be a great time of year to check out the zoo as Baker notes, "It's nicer for some of the animals in the winter. A lot of them like the cooler weather and they're a little more active." There are constantly activities for both children and adults – story hour, workshops and classes.
Another exciting feature at the zoo is its relation to popular culture, "We have our fossa and we have our lemurs. Most little kids saw the movie Madagascar, and those animals are both in that movie. There is a link there right away."
Thanks to fundraising efforts, the zoo is looking to expand and modernize in the future and Baker explains, "We have a brand new master plan and it looks at the whole zoo. We are going to replace with new, state of the art exhibits. We have our mission, we know what we need to do, and we're going to do it right."
The new plan as Baker adds, "Will be based on Bio-Diversity hot spots. The 30 most crucial areas in the world where ecosystems are the most threatened by human development. We've chosen five major areas that we're going to feature—Indo-Burma, Andes, West African rain forest, Madagascar, and California."
Baker's passion for the zoo is infectious and one cannot help but to be inspired and proud of such an integral piece of animal conservation after a visit, "It's the best job in the world. I get to come here everyday and be around some of the world's most amazing animals and then teach kids and people all about them. There's whole states without an accredited zoo and we have one right in our backyard."
— Brandi Stansbury
Subscribe to weekly travel news
comments