Spend a day or days hiking, camping, boating and more
–Just fifteen minutes from Arroyo Grande, beautiful Lopez Lake Recreational Area is a fantastic destination for outdoor enthusiasts and families looking for fun. Enjoy a picnic or stay a night or so at one of the campgrounds rated among the best in the county.
The activities include camping, fishing, boating, water skiing, sailing, windsurfing, picnicking, hiking and equestrian trails, mountain biking, canoeing and bird watching.
Rich with birds, animals, trees and plants the area is home to over at least 150 species of native and migratory birds and many other animals, including mule deer seen quietly browsing or resting under the shade of oaks.
Lopez Lake is a fantastic option for everyone to relax in beautiful surroundings and enjoy outdoor activities. The lake makes a great destination for a day trip, a camping trip and even a wedding, family reunion or other events. There are even a water park and ropes and zip line courses!
Waterslides, ropes and zip-lines
The Mustang Waterpark opens in May for the season and boasts two giant 600-foot waterslides and a 38-foot high half pipe. For more information call (805) 489-8898 or visit mustangwaterpark.com.
Vista Lago Adventure Park is an outdoor adventure park featuring multiple ropes courses and zip lines for beginners to the experienced. With over 50 elements in the rope course and four zip-lines, there's something for every level of adventurer. For more information visit vistalagoadventurepark.com or call (805) 710-7970.
Camping and day use
There are more than 350 campsites for everyone's camping adventure, including the Black Bear Equestrian Camp. Ranging from primitive campsites, to cabins and RV campsites with full hook-ups, amenities may include electricity and hot showers.
Shaded picnic sites with barbecues and other amenities are located throughout the park. The Arboleda Group Day Use Area, popular for families, company picnics and other events, can be reserved year-round.
For reservations and more information visit slocountyparks.com or call (805) 788-2381.
Camp French Event Center
The event center accommodates 150 people and is equipped with tables, chairs, a professional kitchen, dishwasher, walk-in refrigerator and warming trays. For more information call (805) 781-2381.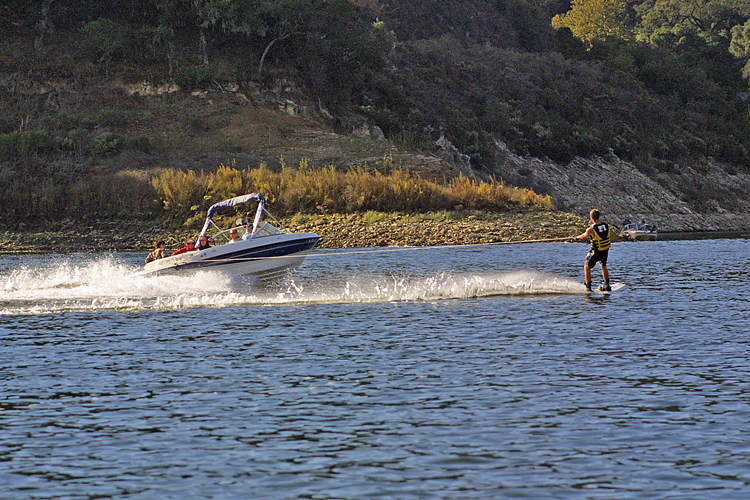 Fishing and boating
What's a lake without fishing and boating? Crappie, red-ear sunfish, largemouth and smallmouth bass provide the best angling in warmer months.  Catfish exceeding 25 pounds are caught at dusk and dawn all year.  Windsurfing and canoeing are popular activities. The marina with a launch ramp, a food store, snack bar, tackle shop, and boat and "water toy" rentals operates year-round.
Quagga Mussel inspections are conducted at Lake Lopez.
For current information about the public boat launch ramp, for reservations or more information call (805) 489-1006 or visit lopezlakemarina.com. For information about current lake levels visit wr.slocountywater.org.
Hiking, mountain biking and equestrian trails
Getting on the trails is a great way to experience the park. Just walking beneath the stately live oaks is a treat. Views range from the shoreline to panoramic vistas. Along the way you may see shell fossils embedded in the Santa Margarita limestone, evidence of an inland sea some 26 million years ago.
The trails in the park are multi-use for hikers, mountain bikers and equestrians. Totaling over 16 miles the trails range from easy to challenging.
For maps, more information about trailheads, hiking safety, or other inquiries contact the Lopez Lake Recreation Area department of San Luis Obispo County Parks at (805) 788-2381 or visit slocountyparks.com.
comments