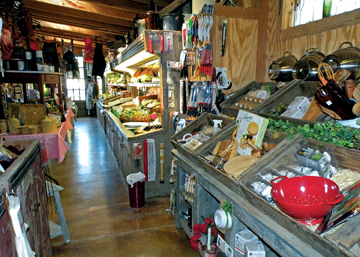 Windmill Farms isn't your ordinary farmer's market. For one thing it is available every day, rain or shine. The old fashioned barn and windmill grace the side of the road just off the 101 freeway on Thompson Road in Arroyo Grande. As cars whiz by on the freeway they might miss this special place, but if they slow down and make a stop, they will surely enjoy the adventure of a visit to Windmill Farms.
Approaching the Farm you will see old fashioned western wagons and a quaint trolley car. Nearby is a field with sunflowers and corn growing high. As you walk through a vine covered archway you might feel like you are entering into a magical world especially when you glimpse your first view of the garden. Brilliant blue pottery is surrounded by potted roses of white, red and yellow. Brightly colored ceramic flowers and little toadstools accent the green foliage of the plants. Here too are fountains and statuary. Benches situated on the gravel pathways offer a place to rest and enjoy the peaceful scene. Mounted on the front of the building is artwork featuring whimsical cows and chickens.
The garden at Windmill Farms specializes in a variety of roses and succulents. "We decided on these two types of plants because of the hardness of our water here," commented Lorna Kirk, owner of the Farm. Lorna and her husband bought the property in 2000 when there was only the front small barn building on the site. They have since built onto that structure, greatly enlarging the capacity of what the barn can offer. Inside you will find a myriad of items from the pesticide-free fruits and vegetables that they grow on their adjacent farmland and on a farm in the Central Valley to an eclectic and colorful assortment of gift and culinary items. You will see beautiful gift items, crockery, natural lotions, soaps, fragrances, and oils, cards, tableware, decorative art, collectibles and more. Specially made up gift baskets are also available.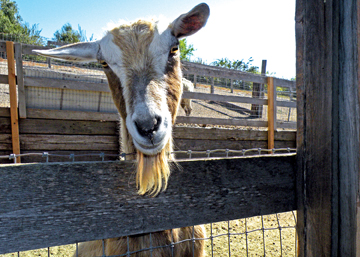 In the main part of the room shelves are stocked full of a wide variety of gourmet foods, sauces, jams, preserves, breads and mixes. "Most of the gourmet foods are from California suppliers and local sources," Kirk said, "we like to support our local farmers. You can sample anything you might be interested in before buying," she said, "this way you won't be disappointed."
Outside in the Critter Corral visitors can walk through and pet or feed the animals. There are goats, sheep, donkeys, pigs, turkeys, and Guinea fowl. The goats in particular strike interesting poses as they reach over the fences to beg for your attention. The Kirks host school groups throughout the year to come and see the animals and take part in a little of farm life. Kirk mentioned that they do breed the goats and will sell kids.
Special events take place at the farm. In the fall a large supply of pumpkins are put outside and people and kids come from far and wide to make their special pumpkin selections. "We are also excited to be starting to host the Central Coast Garden Club here," Kirk said. The Club will meet there on the 4th Sunday of the month at 2 p.m.
If you are looking for something special for that person who has everything, this is a good place to come to find something unique whether it be gift items, gourmet food, coffee, and tea, or lovely roses and garden art. Or perhaps you might just like to sit in the garden with a cup of gourmet coffee and a delicious raspberry scone! Windmill Farms is open from 10 a.m. to 6 p.m. in summer and until 5 p.m. in winter. Do stop by, you won't be disappointed.
— Ruth Ann Angus
comments