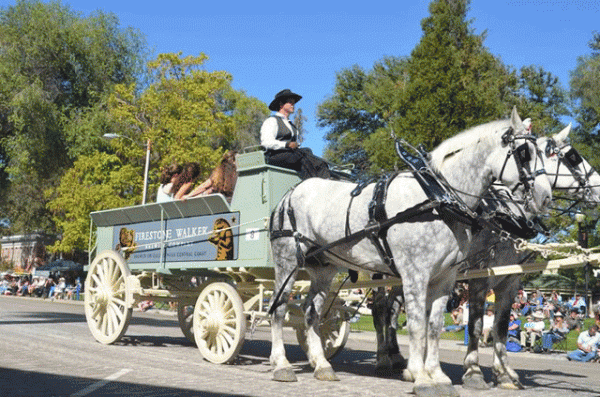 – All day this Saturday, Paso Robles will honor its wild-west heritage with the annual Pioneer Day celebration.
The first Pioneer Day was held on Oct. 12, 1931. It was organized by community volunteers working with generous donations of time, materials and money from individuals, businesses, churches and service organizations. Their goal was to provide a day of community friendship and a commemoration of the heritage of the Paso Robles area. It would also become a day set aside to say "Thank You" to all of the people who support the business and professional community of the area throughout the year. Most businesses closed so that their employees could enjoy and participate in the activities and family reunions. There were to be no charges for any of the events, no commercial concessions and lunch would be provided at no cost.
The whole day is free and entirely funded by the business people and dedicated citizens of the area.
Pioneer Day Schedule of events:
7 a.m. – Bean feed preparation @ Paso Robles City Park
7:30 a.m. – Antique classic car judging @ King Oil Tools, 2235 Spring Street (old Reneau lot)
8 a.m. – Children's pet show for kids 12 years and under @ Paso Robles City Park Gazebo
8:30 a.m. – Little cowboy / cowgirl contest @ Paso Robles City Park Gazebo
10 a.m. – Pioneer Day parade starts at 16th & Spring and continues around City Park
Noon – Free bean feed @ Paso Robles City Park
Noon – Carnegie Library & Historical Museum opens in City Park
12:30 p.m. – Concert @ Paso Robles City Park
1 p.m. – Horseshoe pitching contest @ Paso Robles City Park
1 p.m. – Pioneer Museum opens @ 2010 Riverside, next to Paso Robles Event Center
1 p.m. – Old gas engine show @ Pioneer Park
1 p.m. – Wagon & tractor display demonstrations & activities at the Pioneer Museum
2 – 4 p.m. – Barn dance. "Just Country" will be performing at the Pioneer Museum Tractor Barn
For more information about the event, visit pasoroblespioneerday.org.
Related stories:
Pioneer Day activities planned at Pioneer Museum
Pioneer Day Committee announces 2015 royalty
comments