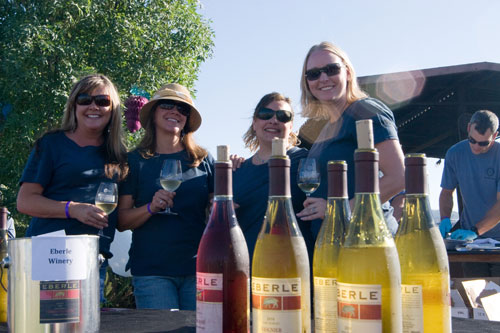 Early sell out expected with just 1,200 tickets available
The Paso Robles Rotary will once again bring Paso Robles' top winemakers together as they compete to find out who is the best chef. The 16th Annual Winemakers' Cookoff will be held Aug. 9 from 6-9 p.m. at the Paso Robles Event Center. Organizers are limiting attendance to just 1,200 tickets. Tickets are $85 at pasorobleswinemakerscookoff.eventbrite.com .
"The Paso Robles Winemakers' Cookoff has become one of Paso Robles' most-popular wine, food and music events," said event co-chairperson Bob Fonarow. "Participating wineries pair their grilled culinary creations with their finest wines and compete for both Judges' Choice and People's Choice awards the day of the event. We are expecting tickets to sell out fast."
All proceeds from the event benefit local high school scholarships. Thanks to the event, the Rotary contributed $30,000 to Paso Robles High School scholarships last year. Since the event's inception, over $400,000 in scholarships has been awarded to local high school students. IQMS is returning as the title sponsor of the event.
"The IQMS sponsorship of the Rotary event underscores our company's commitment toward the education and support of our local youth," said IQMS President and C.E.O. Randy Flamm. "As we continue to prosper here, our involvement in helping to further the goal of an event like the Cookoff is one way of giving back."
For more information on the Paso Robles Rotary Club and the Winemakers' Cookoff visit winemakerscookoff.com or call (877) 755-7845.
Subscribe to weekly travel news
comments