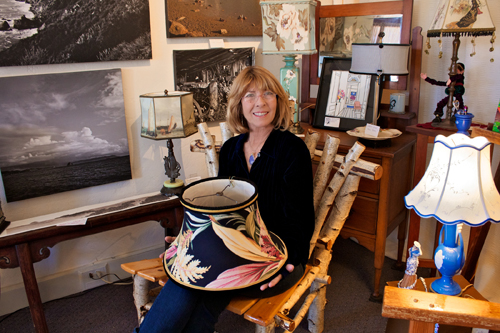 ArtEffects Gallery
What do you think you will see in an art gallery? A drawing, an oil painting, or maybe a watercolor comes to mind. Lampshades might not be something you would expect, but lampshades are just what you will find at ArtEffects Gallery in Morro Bay. These are not ordinary lampshades, certainly not what you might find at a big box store. The lampshades at ArtEffects are "shades of a different color" – the end result of what Kathleen McCarthy creates in a lampshade is truly a work of art.
Step into her little shop on Morro Bay Boulevard and be transported. Everywhere you look there is an eclectic collection of lamps from every era, each handsomely crafted by McCarthy. Lampshades are not the only art items, on the walls are Giclee prints of photographs taken by her husband Peter Mounier, a well-known local photographer.
McCarthy also shows works from many other artists. There are watercolors and oils of farmhouses that local artist Nico Vandenheuvel has painted. Vandenheuvel is originally from the Netherlands and his current showing are scenes from there as well as his Old Creek Road ranch. On another wall are oils depicting scenes very reminiscent of Norman Rockwell paintings, painted by North Carolina artist Susan Brabeau in her own distinctive style. Also featured are paintings of historical local settings by artist Gene Francis. Local travel writer Tom Wilmer has Adirondack-style chairs made entirely from down and scrap wood. The shop also features felt art from Catherine Van Der Hoeff, also of the Netherlands. Michaela Dowd is showing her very unusual collage paintings, and there is other varied art and craft from artists who stop by and leave work. It's always changing and anyone is welcome to submit art for showing.
However, it is the lamps and shades and all the fixings that go into them that dominate the shop and give it the most interesting décor. McCarthy has been in this location for 17 years. She says, "I can make a shade from any fabric. I use royalty-free prints that I find in publications and online."
She also takes advantage of her husband's business "Morro Bay Giclee" because Mounier can print whatever Kathleen wants on silk or linen and other fabrics. An original work of art, royalty free images, photographs and any object that can be photographed can be printed on textiles. "It's really fun and people come up with lots of ideas of their own. I like working on a project with the customer – we bounce ideas back and forth until 'Voila!' that's the one!" says McCarthy. The giclee process has reinvigorated business and renewed McCarthy's excitement about her craft. McCarthy also makes shades from recycled vintage linens and has "hanky and dresser scarf shades." She also has big collection of vintage lamps for sale in her back room, a messy but creative space. She builds lamps from old parts and new and has an extensive finial collection.
McCarthy works from emails, visits, and phone calls for her long distance customers. She offers many cost saving ideas as well as her art shades. Recently, McCarthy took a series of photographs depicting the process that goes into her original designs for anyone to study. Much is involved in the construction of an art shade beginning with determining the shape for the lamp, obtaining a shade frame from a welder, painting and wrapping it, and then deciding on what fabric to use – and that's just the start of the process. The trim takes the longest amount of time and is often entirely fashioned by hand.  McCarthy can also repair, reline and copy any shade.
McCarthy uses all kinds of fabric and shade structures. Some of the shades are made so that the image is only faintly seen in daylight but shines through when the lamp is turned on. Along with shades, bases and fabric, McCarthy has a huge collection of lamp finials, trims, harps, and bulbs. She also can order any needed lamp parts.
"I either pick a fabric, or choose a print for Peter to Giclee," she said, "or a customer chooses." The next steps involve making a pattern for the shade, bringing together all of the parts, and sewing them on the sewing machine. "The inside, balloon lining is made out of silk and hand dyed," she said.  Much of the rest of the project is sewn by hand sometimes including three layers, the top, an unseen layer, and the lining. Trim is also hand sewn on. Finally the shade and the lamp base are united. McCarthy sews in her label and has her husband photograph the finished lamp. Doing one of these from scratch takes a long time and therefore they are higher in cost but McCarthy likes to help people find a shade they can afford.
McCarthy plans to start classes for decorating a ready-made lampshade and is redoing her web site so that she can take online orders. Both should be ready by the fall months.
Hours at ArtEffects can change, but the studio is usually open Fridays and Saturdays. McCarthy recommends a call prior to visiting. ArtEffects can be reached at (805) 471-7099. The gallery is located at 435 Morro Bay Boulevard in Morro Bay or online at arteffectsonline.com.
— Ruth Ann Angus
comments