Beads by the Bay is a craft and garden wonderland
Step inside Beads on the Bay and become immediately enchanted by textures and glimmer and glow from beads of all kinds. Be lured through the shop into the garden to experience how living plants can validate those creative urges and visions.
It's almost impossible to visit Beads on the Bay and not be seduced into creativity. Images for new earrings, a necklace or bracelet, or some other kind of bead art are inspired by the varied collection of beads. A mystical looking air plant or charmingly potted succulent turn out to be exactly what that empty space in the studio or living room needs.
The bead selections include semi-precious stone, glass, Swarovski crystal, seed beads, pearls, and amazingly textured wood, bone and shell, and more kinds of beads from the usual to the exotic. Tools, supplies and classes round out the bead shop.
The garden offers herbs, succulents, scented geraniums, air plants and white sage, pots and hanging terrariums, fairy garden supplies and beautiful garden art. Spend some quiet meditative time at the goldfish pond or pot your own plant at the potting bench; or do both! The garden even has its own website at www.morrobaygarden.com.
"It's just a beautiful little spot in the middle of town," said Susan Stewart, who owns and operates the shop along with Helen Edwards. Stewart is the bead specialist while Edwards handles the garden.
Beads by the Bay is located at 333 Morro Bay Boulevard in Morro Bay. Open Monday through Friday from 11 a.m. to 5 p.m.; Saturday from 10 a.m.-5 p.m. and Sunday from noon to 5 p.m. Until future notice, bead shop customers are limited to six at a time and garden shoppers limited to eight at a time. Be sure to ask about the Bead frequent buyer card and get one for yourself! And don't forget to check the sale baskets!
Curbside pickup and some online ordering is available by phone, email or Facebook Messenger. The shop practices 6-foot distancing and face coverings are required. Trays and pens are at the register and sanitized between each use.
For more information call (805) 772-3338, visit the website at morrobaybeads.com or on Facebook or email morrostrands@morrobaybeads.com or morrostrands@aol.com.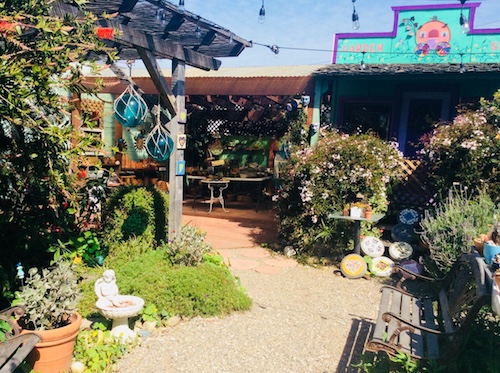 comments