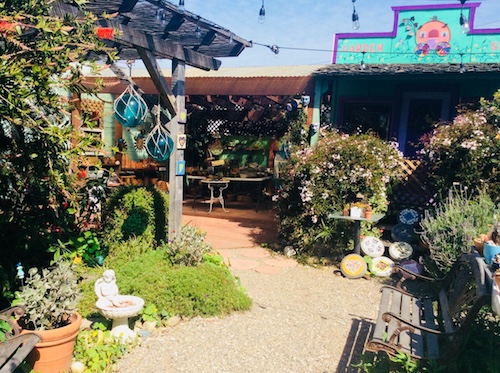 Exquisite beads and beautiful plants are for sale
-Nestled in the heart of Morro Bay, Beads by the Bay is a charming shop that will delight all who enter to browse for a new craft project, attend a class, or simply enjoy the tranquil environment. The store opened on Sept. 16, 2006 and has served tourists and locals for over a decade in their crafty pursuits.
"It's not only a full service bead store… but it's also a garden shop. It's just a beautiful little spot in the middle of town," said Susan Stewart, who owns and operates the shop along with Helen Edwards. Stewart is an expert on the bead aspect while Edwards handles the garden activity.
Some of the most popular items found at the shop include semi precious stone beads and air plants. There is a multitude of bead varieties, including glass, Swarovski, seed, pearls, wood, bone, shell and more. Tools and string materials are available, including fun, informative magazines and books. Classes are regularly scheduled and can set up by a customer if there is a specific project or skill set in mind.
The garden offers plants, such as succulents and white sage, and different accessories, such as pots and hanging terrariums, and even miniatures for a fairy garden. Make sure to rest by the pond where goldfish reside, and then head over to the "potting bench" to put together a plant and pot to take home.
"Morro Bay is a great little town to discover lots of little unique businesses," said Stewart. "[We] definitely serve all over our own county but [we're] also a real destination."
Beads by the Bay is located at 333 Morro Bay Boulevard in Morro Bay. Open Monday through Saturday from 10 a.m. to 5 p.m. and Sunday from 11 a.m. to 5 p.m. For more information call (805) 772-3338 or visit morrobaybeads.com.
—Sadie Mae Mace
comments