'People's Choice' bistro offers all day breakfast and eclectic dining
What Blue Sky Bistro owners, Denise Robson and Alan Harrison, don't grow in their own garden is sourced from local producers. Locally grown, fresh, healthy, pesticide-free and organic ingredients make their way from the Blue Sky Culinary Garden and local suppliers into the wholesome, eclectic meals from the bistro's kitchen.
The bistro features its own wine label along with local wines, selected beer and other beverages. The Blue Sky wines were created with the help of winemaker Jeff Branco, currently of Jeff Branco Cellars and formerly with Justin Vineyard and Rotta Winery. Blue Sky wines are served along with local favorites such as Le Vigne, Tobin James, Adelaide, Dusi, and Sextant.
With freshly prepared food, fine wine, good beer, Friday night and Saturday afternoon music, spectacular views of the bay, the sky, boats, and Morro Rock, and what more do you need? Shopping is only away along the Embarcadero. Lodging is conveniently located.
Owners Denise and Al have built their business on the spirit of giving back to their community. They support local businesses, participate in fundraising events for a variety of causes, support local schools, environmental and community organizations, helping raise funds for cancer victims, elderly assistance, and homeless veteran meals, don't use styrofoam and recycle.

The food!
Filling appetizers start at under $10, breakfast is served until 4 p.m. and no one is left out of the choices for lunch, dinner and the kid's menu.
Mouth-watering lobster bisque ('People's Choice' soup for two years in a row at Morro Bay's Soupabration Event), Mahi Mahi tacos, linguini and clams, and Shrimp Louie are among the many favorites on the impressive menu. Fresh local catches from nearby Tognazzini Fish Market are the first choices for the seafood menu. Hearty house recipe meatloaf sandwich and choice New York steak fill out the lunch and dinner menus.
"It's important to have our food made fresh to order and everything grilled or broiled instead of deep-fried," said Denise. "We strive for the best quality, freshest dining options at moderate prices which further adds to the overall value."
Filling appetizers start at under $10, breakfast is served until 4 p.m. and no one is left out of the choices for lunch, dinner and the kid's menu.
Don't forget! There is also an Early Bird – Happy Hour menu with house wine and select beer happy hour prices and dinners starting at $9.95. Happy hour is from 4 – 6 p.m. Sunday – Thursday.
The music!
Friday night is music night and Saturday afternoon, 3 -5 p.m. is music afternoon! Drop in for good times on the patio with local and visiting musicians. Enjoy spectacular bayside views and great food and drinks.
Blue Sky Bistro on the Bay is located at 699 Embarcadero in Morro Bay. For more information call (805) 772-8988 or visit bistroonthebay.com.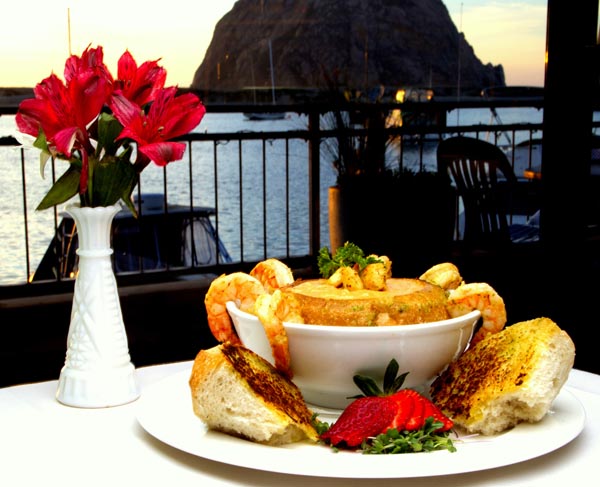 Lobster Bisque in a bread bowl.
comments