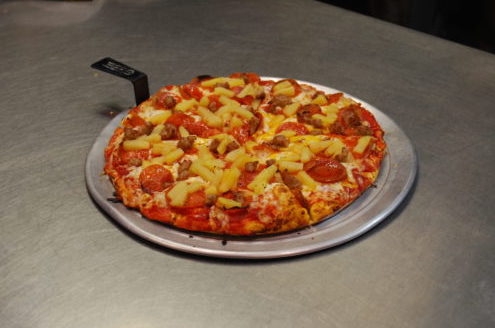 Yummy pizza has satisfied the community for over 20 years
Paso Pizza Kitchen, known locally as PPK, has been serving up delicious pizza, appetizers, salads and more since 1991. Now with two locations, the flagship restaurant in downtown Paso Robles, and the newest on Creston Road, there is no reason for anyone to miss out on the Paso Pizza Kitchen experience.
Each dish is made with fresh ingredients, including grated cheese, vegetables, and even bread purchased from a local bakery. There are over 20 different gourmet pizzas to choose from and the option to build your own pizza with a multitude of toppings.
Mouthwatering pizzas include the North Beach pizza with pesto and feta, the Chicken Sicilian with special herb seasoning and garlic white sauce, and the PPK PPOL pizza with pineapple, pepper, and olives. One of the most popular pizzas is the Kitchen Sink, made with the restaurant's signature Italian red sauce and a filling combination of meat and vegetables.
Not in the mood for pizza? Try the linguine chicken Alfredo made with the PPK special recipe for Alfredo sauce or the chicken club sandwich with bacon and mozzarella. The Burger Basket is one of the best burgers in the area. Dip into the all-you-can-eat salad bar, or order a Caesar salad. The menu offers traditional Italian pastas and other dishes, including vegetarian options.
The very extensive menu is available on the Paso Pizza Kitchen website (pasopizzakitchen.com). It's well worthwhile checking it out. Hungry diners can also order online from either the downtown or the Creston Road location. Specials are offered throughout the week, including lunch specials. The restaurant delivers to a wide area between Paso Robles and Templeton.
Both locations are conveniently located. The downtown location on 12th Street is perfect for shoppers and visitors on a downtown wine tasting jaunt. The Creston Road location is conveniently located in a shopping center with lots of parking.
The two locations are 625 12th Street, near the Paso Robles Downtown Park, and 1467 Creston Road, Paso Robles in the shopping center on the corner of Creston Road and Sherwood. Hours are Sunday through Thursday 11 a.m.- 10 p.m. and Friday and Saturday, 11 a.m.-11 p.m. For more information call (805) 227-0777 or visit pasopizzakitchen.com.
comments