The king of your sandwich cravings is here
—Just a few short blocks from the heart of downtown, Broad Street Giant Grinder is a sweet source of all that is good. Gigantic and mouthwatering, their East Coast-style sub sandwiches hit the spot. The shop's deli makes hot and cold grinders, deep dish pizzas, salads, and features locally-made brews, wines and bottled drinks.
Open seven days a week, the small but mighty shop satisfies your greatest cravings. Indoor seating is limited, but outside guests can get cozy at a table on their dog-friendly patio. Impressive sandwiches, generous portions and beautiful surroundings make this sandwich shop a secret refuge for the avid foodie.
The SLO location, modeled after the original Manhattan Beach Giant Grinder shop, was established in 2008. Brad Fuller, who started the Manhattan Beach shop in 1970, brought the scrumptious East Coast style of grinders to the Central Coast. With hard work and dedication, his following grew and the SLO business became a massive success. In early 2020, Fuller retired and passed the business on to Marty Budinger and Libby Waterbury. The husband and wife family business has made a positive impact on the community and customers.
Tummy growling? Freshly baked bread is piled high with toppings from Morro Bay avocados to East Coast-style meats. Try one with their Italian peppers: cooked green bell peppers, drizzled in olive oil and spices. Broad Street Giant Grinder also offers freshly baked cookies made from scratch. Their new pizza oven bakes deep dish pizzas that gives everyone an option they will love! Nobody goes away hungry. Diners love to customize their massive 18" sandwiches. A regular 9" sandwich can often feed two people.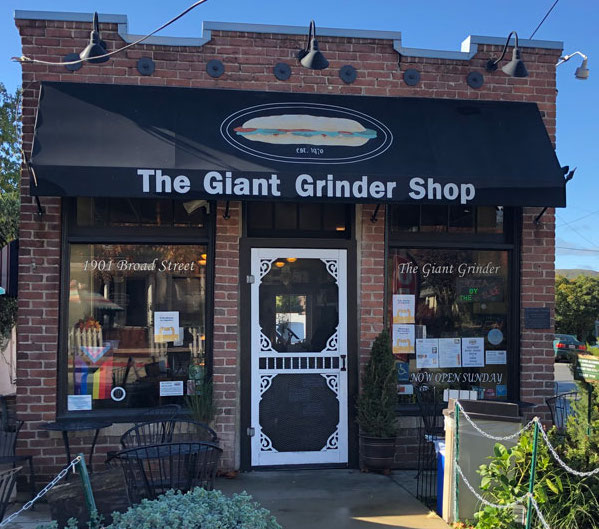 Stop in for a local beer or wine like Two Broads cider, Porch Pounder wine, Cali Squeeze, Barrel House, Central Coast Brewing, or Figueroa Mountain. Not in the mood for alcohol? Grab a locally made craft soda, a Sunshine Bottleworks yerba mate, or a Whalebird Kombucha.
The most popular sub is the East Coast Combo with Italian salami, mortadella, capicola and "the works," including Italian peppers, lettuce, tomato, olive oil, salt, pepper, oregano and provolone cheese. Other signature combinations include the Nor Cal (roast beef and roast turkey), Central Coast (chicken breast with prosciutto), and So Cal (Italian salami and roast turkey). Popular hot sandwiches include the half meatball and sausage, hot pastrami, and toasted turkey pesto. Choose a vegetarian option including breaded eggplant and marinara sauce or one with pesto, fresh mozzarella, tomato, and spinach. Add a deli salad of macaroni, red potato, or Italian pasta. Mixed green salads come with loads of veggies and options. Savor a crisp dill pickle and a bag of kettle chips.
"We're maintaining what Brad built over the years and making sure our customers stay happy with the menu they know and love. We're very grateful for our amazing customers and their support!" said Libby.
Broad Street Giant Grinder is located at 1901 Broad St. in San Luis Obispo. Hours are Mon-Sat 10 a.m.- 4 p.m., Sun 11 a.m.-4 p.m. For more information call (805) 543-6700 or visit www.giantgrinderslo.com.
—Cassandra Frey
comments