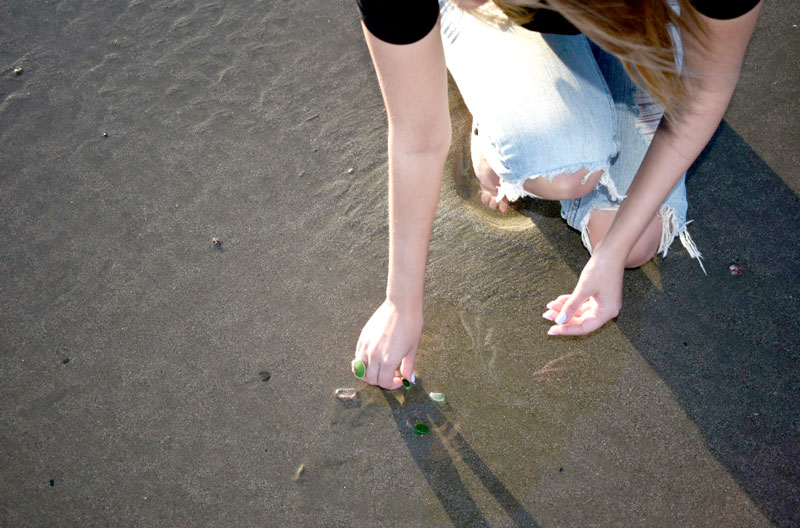 The shop features tiny floating hearts, mermaid crowns and works by local artists
-Part of the romance about a peaceful stroll along a beach is finding the tumbled, gem-toned pieces of glass, edges washed smooth from who knows how many years tossing around in the waves. Pick up one, then another and another, each time wondering, "Where did this come from?" Maybe a perfume bottle from an ancient sunken ship or a rum bottle tossed overboard by a rowdy pirate. What glass vessel was shattered and tossed around as it traveled with the waves? How long did it take to get here? How far has it come?
At the end of the walk, the handful of wave-washed glass, too precious and mysterious to leave behind, is taken home and added to the jar already holding jeweled glass from previous walks. "Someday," the finder promises, "I'm going to do something with all this sea glass."
Jason Cordero, of Cabana Jewelry and Gifts is so intrigued with the mystery of sea glass he has created an exclusive line of jewelry from that desire of someday doing something with sea glass. Along with making unique original jewelry, Cordero also creates custom jewelry from sea glass people brings to him. "People who like sea glass value it," said Cordero. "Sea glass is personal."
Who knew that pretty piece of ocean blue glass they picked up was the home of a sculpted silver jellyfish, or the dark green almost perfectly round piece is really a sea turtle? Cordero brings sea glass to life, treating each piece like a gemstone. Each wave-tumbled shard is set in a uniquely formed sterling silver or 14-karat-gold setting. Those small pieces collected from among the washed-up kelp really are tiny, brilliant hearts, dancing on a necklace just as they floated and drifted in the waves.
What else will one find in Cabana Jewelry and Gifts? Bracelets reminiscent of mermaid crowns, and even tiny sculpted mermaids; miniature sculpted palm trees and stylized waves flowing across a sea glass pendant are only a few sea glass treasures to be found. Cordero also features work by other Central Coast jewelers such as Cavin Chains Unbound by Matthew Robertson, handcrafted jewelry by Richard Jordan and Big Sur jade by Dillon Carr.
"I want to make it look like little floating pieces," said Cordero about his jewelry, "Each piece is original and will never be the same from piece to piece." Cordero does not alter the primary shape of the glass, preferring to work with the natural shape of each piece.
Cordero collects most of the sea glass he uses from Cayucos Beach and other beaches on the Central Coast. "I like the idea that the glass is recycled and of finding something raw and organic and using it for what it is."
Cabana Jewelry and Gifts is the place for unique birthday, Christmas and Valentine's gifts. Cabana Jewelry and Gifts is located at 14 N. Ocean Avenue, Cayucos, CA.  (805) 459-1480 Cabanajewelry.com
–By Jackie Iddings
comments