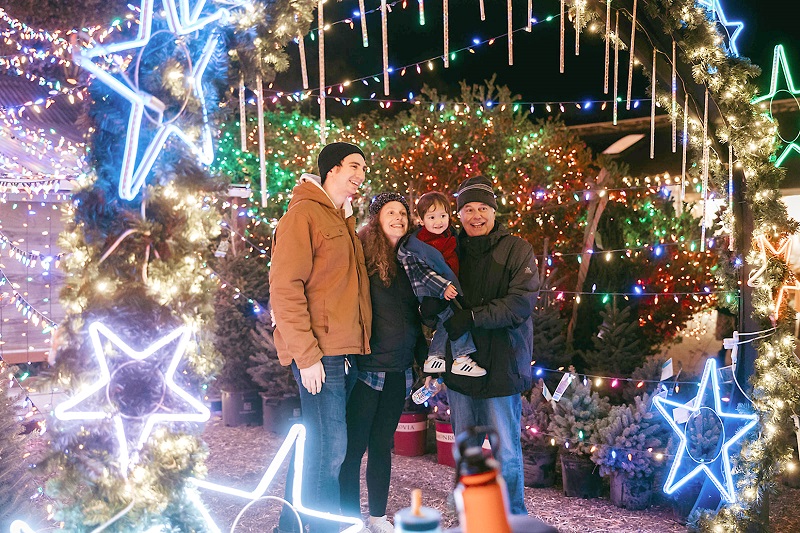 —Featuring over two million lights, interactive displays, an authentic German market, Santa, train rides, and more, the 2023 Cambria Christmas Market is happening nightly, except for the first three Mondays and Tuesdays, from November 24 to December 23. Now in its 12th year, this spectacular holiday tradition tends to sell out.
"About half of the visitors are returning guests," said Mike Arnold, event manager for the Cambria Christmas Market. "It's a lot of fun for those of us working all year long to plan the event. It's cool to know that, after 12 years, there are still people discovering us and thousands of families are making the event an annual tradition."
A true street market in every sense, the event pays homage to the markets that originated in Europe. These markets, known as Weihnachtsmarkts and held in town squares in Germany and Austria, kick off the holiday season with food, drink, singing, and seasonal items offered in open-air stalls.
Arnold and his team expect to welcome about 70,000 guests this year. For those that have visited before, keep in mind the Cambria Christmas Market gets bigger and better each year, including more exhibits, vendors, and entertainment.
"It's a big thing for our little town of Cambria and a ton of fun for everyone," Arnold said. "You definitely don't want to miss it! We have an awesome design team that is always looking for new interactive displays and doing new things to keep it interesting."
Interactive displays are bigger and better than ever
The team works all year creating a new and exciting event for returning and first-time visitors. Crowd favorites such as the Tunnel of Lights, Surfing Santa, and Twelve Days of Christmas, return every year. Arnold's favorite displays include Under the Sea, the Golden Gate Bridge, and Santa's House.
"The Tunnel of Lights is the grand entrance to the light displays and a popular photo spot," Arnold said. "The Twelve Days of Christmas is really cool, and this is the first year that all 12 days have movement to them. It's going to be awesome, and we are excited about showcasing it. One of my favorite parts of the market is watching all the kids and adults interacting with Santa and taking pictures. It's such a special time for everyone."
The team has made sure all of the paths are wheelchair and stroller-accessible. Fun for all ages, the nightly event is family-oriented and the perfect date night. It's an opportunity to slow down and enjoy time with your date, or friends and family while walking through the light displays.
"A lot of marriage proposals happen here, with couples returning each year to celebrate or hold their wedding ceremony at the Cambria Pines Lodge," Arnold said. "So much work, time, and effort go into the Christmas Market, and the guests make what we do worth it. It's gratifying to see all of that work come together and to see people enjoy it."
Vendor booths, food, and drink
Following a modified event during the pandemic, the team was thrilled to offer a full-scale Christmas market in 2022, and it promises to be even bigger and better in 2023. All of the vendors are back to bring a true German Christmas Market to the Central Coast. Each of the 28 booths is unique, offering selections of everything from wine barrel-crafted artworks and traditional German nutcrackers to hand-knitted clothing, handmade jewelry, and candles. There are plenty of German glass ornaments, décor, and other traditional holiday items available as well.
"The lights are great, and that's our American touch," Arnold said, "but having the vendors is special because they are all local people with handcrafted goods. The shutdowns were hard on them, so it's nice for visitors to return and support local businesses while they do some Christmas shopping."
There's a wide variety of delectable offerings from many food booths, including baked goods and pot pies from Linn's Restaurant. The Christmas Market's executive chef makes everything in-house such as cinnamon rolls, cookies, and bread pudding. Be sure to try the traditional schnitzel sandwiches, pretzels, bratwursts, pulled pork sandwiches, German potato salad, pickles and, save room for those lebkuchen cookies! The Biergarten has live music, wood-fired pizza, German beers, hot cocoa with or without a shot, warm mulled gluhwein, and more food and drink options.
"With live entertainment, train rides, shopping, the food and, of course, Santa, there's a lot to do other than walking through and seeing the lights. Don't miss the Cambria Nursery across the street, one of the largest Christmas stores in California. It's all decked out for its own unique experience," said Arnold.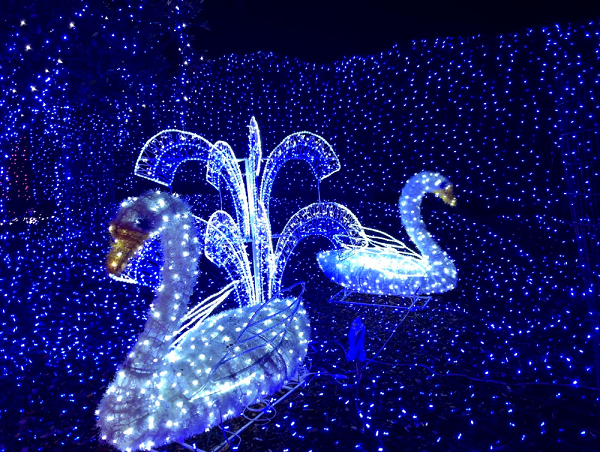 Lodging, event packages, and parking
There's so much to take in that many stay a few nights by purchasing a Cambria Christmas Market Package. Choose from accommodations at Cambria Pines Lodge, Sea Otter Inn, or The J. Patrick House & Inn.
"Some people stay two or three nights and still don't see it all," Arnold said. "There's a lot to do, so we like people to know that if a day is sold out, they may still be able to book a package through one of these hotels. to book their stay for the next year before they leave."
Cambria Pines Lodge is family-friendly and convenient with parking within walking distance of the Christmas Market. The J. Patrick House & Inn is a boutique hotel geared towards adults, located a short walk from the event. The Sea Otter Inn, across from Moonstone Beach, is ideal for both families and couples, and provides a shuttle for guests to the main gate of the event.
All onsite parking is reserved for hotel guests and those needing handicap accessibility. Free parking with free shuttle service is available from Coast Union High School on Santa Rosa Creek Road, the West Village at Main and Arlington streets, and the East Village at Burton Dr. and Center St. Carpooling is encouraged. Neighborhood parking or parking at the event site is not allowed.
The 2023 Cambria Christmas Market offers nightly magical experiences from Nov 24 to Dec 23. The market is open nightly except for the first three Mondays and Tuesdays. Admission prices vary by night from $15 to $35; free for children five and under. For current information, parking and shuttle details visit cambriachristmasmarket.com, or visit the Cambria Christmas Market Facebook or Instagram pages.
—by Meagan Friberg
comments