Tasting room in SLO's Edna Valley is open daily
Founded in 1983 by Claiborne (Clay) Thompson and Fredericka Churchill, Claiborne & Churchill Vintners is a small, family-owned winery devoted to producing Alsatian-style wines in California's pastoral Edna Valley appellation.
Clay and Fredericka met while teaching Old Norse and German, respectively, at the University of Michigan in the late 1970s.
Thompson was always an academically-inclined person, having studied abroad, and earned his PhD in Old Norse Language and Literature at Harvard University. He never could have guessed that his first professorial appointment, with the University of Michigan, would also be his last.
"I was invited to UCLA to give a talk on my academic subject and also to Berkeley in May of 1981," he recalled. "Fredericka was visiting her sister in California at the time, so we rented a car and drove up the California coast, stopping along the way at a few wineries."
One of those wineries happened to be Edna Valley Vineyard near San Luis Obispo. "It was really low-key," said Churchill. "No one even knew there was a winery out there at the time, and there were just a couple of employees."
This quick glimpse at the winemaking life spoke to Clay. "I thought, these guys like what they do, and they look happy. They work hard…and they like to work hard!"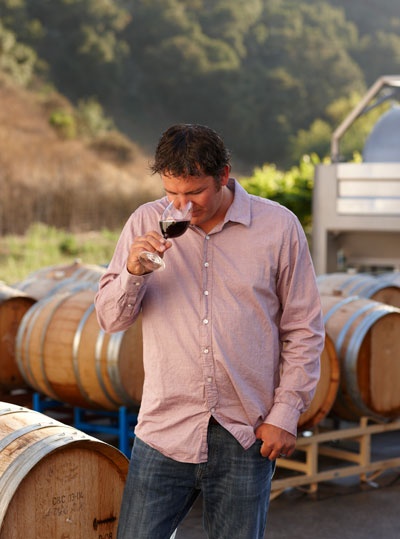 That visit, Clay found himself signing on as the third employee of Edna Valley Vineyard. "They didn't quite have me in mind –they were hoping for some young brute – but the overseeing wine master was [California pioneering winemaker] Dick Graff, and he was intrigued by the idea of having a Harvard PhD in the cellar for six dollars an hour."
Clay and Fredericka soon moved to San Luis Obispo, Clay working at Edna Valley Vineyard full-time for five years, and Fredericka working at a bookstore and later teaching a few German classes at local university, Cal Poly. "We were newlyweds," said Clay, "we had no money, and we worked all the time."
Looking back, Clay Thompson and Fredericka Churchill, owners of Claiborne & Churchill Winery, or C&C, say they marvel at how stubborn they've been.
"We were always told 'Don't make wine for yourselves – make wine for the market," said Clay, who was C&C's winemaker until Coby Parker-Garcia took over in 2007. "But we just decided not to do that."
"When I was starting to make wine, I'd already had one career and been disappointed," said Clay. "Integrity became very important to me after all the soul-searching I'd done. And it's not integrity if you pander to the market. That's business."
Fredericka said, laughing, "Even though we struggled, it was a good move."
The winery puts a special focus on the dry, fruity, and food-friendly wines of eastern France's Alsace region, namely pinot noir, gewurztraminer and riesling.
Additional Alsatian-style offerings include: pinot gris, pinot blanc, dry muscat, and an edelzwicker that has become somewhat of a cult classic among wine club members. The winery also produces the more familiar chardonnay, several pinot noirs, and syrah.
Sourced from cool-climate vineyards that support these varietals' naturally high acidity and elegance, C&C wines have won critical and popular acclaim for over 30 years. In 2007 Clay passed his position as Winemaker to Coby Parker-Garcia, who continues to emphasize minimal manipulation of both fruit and wine today.
C&C's straw bale cellar and tasting room – the first of its kind in California – is open to the public every day from 11 a.m. to 5 p.m. at 2649 Carpenter Canyon Road in San Luis Obispo, California. For more information, visit ClaiborneChurchill.com or phone (805) 544-4066.
– Skye Pratt
comments