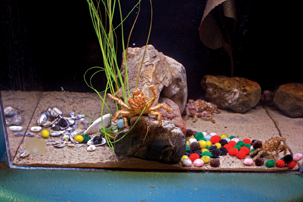 Christine Johnson replaces Tara Kasarjian as Executive Director of the Aquarium
—The Board of Directors of the Central Coast Aquarium (CCA) is pleased to announce the selection of Christine Johnson as its new Executive Director. Johnson will replace Tara Kasarjian who is departing after a successful five-year tenure with CCA to join her family business.
Johnson comes to the Aquarium with over two decades of experience in community and nonprofit leadership in a variety of settings. Her previous position was Director of Development & Communications at Stand Strong, formerly the Women's Shelter Program of SLO. Johnson also served for four years as an elected City Council member for the City of Morro Bay.
"It is an honor to be selected by the Board of Directors of the Central Coast Aquarium to join a dynamic team of staff and volunteers who care deeply about our oceans and are passionate advocates for hands-on marine science education for all," Johnson said. Johnson will continue multi-faceted K-12 marine science education programs that, since 1994, have reached thousands of students from eight counties in California -40% of whom see the ocean for the first time when visiting the Aquarium in Avila. Also, the CCA engages the general public through the Aquarium's exhibit hall, its extensive community programs, and the annual fundraiser, CATCH of the Central Coast, scheduled for Sept. 8, 2018.
Lastly, as Executive Director, Johnson will continue the work already begun on a long-range plan to build a new public aquarium and marine science center in Morro Bay through a public-private partnership between the Central Coast Aquarium, the City of Morro Bay and the Center for Coastal Marine Sciences at Cal Poly.
Subscribe to weekly travel news
comments