All knights, fair ladies and children are summoned to Laguna Lake Park, July 15-16
—The highly anticipated Central Coast Renaissance Festival, celebrating the history, culture, entertainment, food and more features exciting full armor combat matches, live performances by talented musicians and actors, interactive demonstrations by skilled artisans and delicious food and drinks inspired by the Renaissance era.
The event promises to be an unforgettable experience for young and old. Attendees will have the opportunity to immerse themselves in the world of the Renaissance, with countless opportunities to explore and learn about the customs, traditions, and technologies of this fascinating period in history.
Get lost in the grandeur of Queen Elizabeth I's reign in England. Enjoy the riotous stage plays, hilarious comedy acts, and authentic Elizabethan dancing, singing, and magic on four stages throughout the village. Experience living history demonstrations in the streets.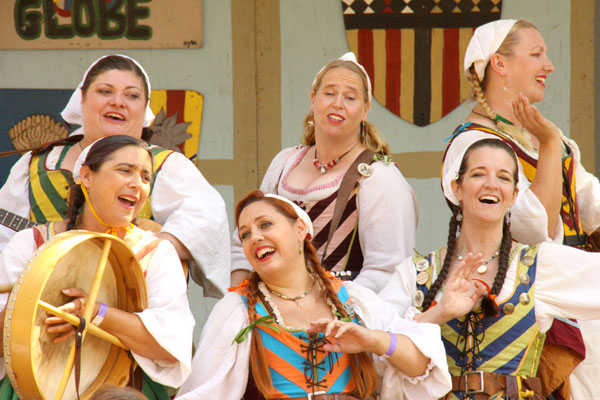 Children will enjoy swashbuckling fun at the Buccaneer Boot Camp with balloon swords; games, face painting and can participate in the daily costume contest where everyone gets a prize. Don't forget to join the pirate treasure hunt on Sunday!
"One of the highlights is the twice daily armored combat battle," said festival spokesman Rick Smith. "Contests include one-on-one single combats, as well as brutal team battles of five against five, which will be contested until one team is driven from their feet. Using steel swords, axes, and polearms, combatants are permitted to strike with weapons, shields, fists, and feet."
Falconry stage shows include flights over the audience with hawks, falcons, and owls, demonstrating training and ancient hunting techniques that are still used today.
No pets, please. No outside alcohol or food, from the iconic turkey legs to modern fare there is something for everyone to enjoy. So come hungry and get ready to feast like a king or queen!
The festival takes place from 10 a.m.-6 p.m. July 15-16 at Laguna Lake Park, 504 Madonna Rd, San Luis Obispo. Admission is $30 for adults and $25 for seniors and children ages 6-15. Children under 6 are admitted free of charge. Parking is available at Laguna Lake Park for $10 per vehicle. For tickets, special discounts and more information visit ccrenfaire.com.
comments