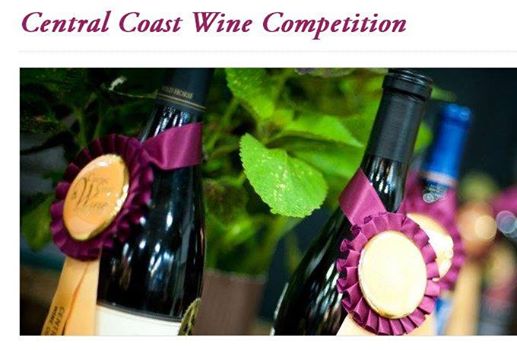 Central Coast Wine Competition showcases local wines
The 11th Annual Central Coast Wine Competition, held June 11-12, featured the best the Central Coast has to offer in wines. This year's competition consisted of over 600 entries from 135 wineries throughout California.
"Wine competitions serve several functions, not the least of which is to provide consumers and the trade with a frame of reference to measure overall a region's development and trends. The Central Coast Wine Competition met that standard by showing just how well San Luis Obispo County can do by white wines as well as red," said Mike Dunne, CCWC judge."The overall best-of-show wine at June's Central Coast Wine Competition, for example, was the lean and electric Mariposa 2013 Edna Valley Albarino, which beat out the spirited and graceful San Simeon 2010 Paso Robles Cabernet Sauvignon."
Award-winning entries have been or will be showcased in four separate California fairs, offering a venue for fairgoers to experience captivating wines from the Central Coast. Gold medal wines were displayed at the Santa Barbara County Fair in Santa Maria and the California Mid-State Fair in Paso Robles during July; the Ventura County Fair in Ventura through Sept. 1, and Aug. 27-Sept. 1 at the Monterey County Fair in Monterey.
Best of Show, Best White Wine, Best Albarino
CRU Wine Company, Mariposa
2013 Edna Valley Albarino
Best Red
San Antonio Winery, Paso Robles
2010 Cabernet Sauvignon
Best Dessert, Best of Fortified Desserts
PasoPort, Templeton
2009 Blend
Best of Merlot
Ancient Peaks Winery, Santa Margarita
2012 Merlot
Best of Grenache
Austin Hope, Paso Robles
2011 Grenache
Best of Bordeaux Blends (Meritage)
B&E Vineyard, Paso Robles
2009 Bordeaux,
Best of Any Other Red Blend
Bodegas, Paso Robles
2009 Blend
Best of Pink-Best Pink
Bushong, Paso Robles
2013 Pink Blend
Best of Tempranillo
Castoro Cellars, Templeton
2012 Tempranillo
Best of Gewurztraminer
Claiborne & Churchill Vintners, San Luis Obispo
2013 Gewurtraminer
Best of Albarino-Best White-BoS
CRU Wine Company, Mariposa
2013 Albarino
Best of Cab Sauv -2011
DAOU Vineyards, Paso Robles
2011 Cabernet Sauvignon
Best of Cab Sauv-2012 & 2013
Edna Valley, San Luis Obispo
2012 Cabernet Sauvignon
Best of Syrah
Halter Ranch Vineyard, Paso Robles
2011 Syrah
Best of Cabernet Franc
Hearst Ranch Winery, Paso Robles
2010 Cabernet Franc
Best of Viognier
Kelsey Wine, San Luis Obispo
2013 Viognier
Best of Other White Wines-Off Dry
Kelsey Wine, San Luis Obispo
2013 Orange Muscat
Best of Dessert Whites
Kelsey Wine, San Luis Obispo
2013 Orange Muscat
Best of Other White Wines-Dry
Kenneth Volk Vineyards, Paso Robles
2013 Malvasia Bianca
Best of Any Other Red Varietals
Michael Gill Cellars, Paso Robles
2013 Counoise
Best of Zinfandel-2011 & Earlier
Midnight Cellars Winery, Paso Robles
2010 Zinfandel
Best of Sauvignon Blanc
Niner Wine Estates, Paso Robles
2013 Savignon Blanc
Best of Fortified Desserts-Best Dessert
PasoPort, Templeton
2009 Blend
Best of Pinot Noir
Peacock Cellars, Paso Robles
2012 Pinot Noir
Best of Sangiovese
Peacock Cellars, Paso Robles
2012 Sangiovese
Best of Other White Rhones
Pomar Junction Vineyard & Winery, Templeton
2013 White Rhone
Best of Roussanne
Pomar Junction Vineyard & Winery, Templeton
2013 Roussane
Best of Pinot Gris/Grigio
Quail Crossing Vineyard, Santa Ynez
2013 Pinot Gris
Best of Grenache Blanc
Ranchero Cellars, Paso Robles
2013 Grenache Blanc
Best of Cabernet Based Blends
Rangeland Wines, Paso Robles
2012 Cabernet Blend
Best of Petite Sirah
Red Soles Winery, Paso Robles
2012 Petite Sirah
Best of Chardonnay
Robert Hall, Paso Robles
2013 Chardonnay
Best of Zinfandel-2012
San Antonio Winery, Paso Robles
2012 Zinfandel
Best of Cab Sauv-Prior to '11 & NV-Best Red
San Antonio Winery, Paso Robles
2010 Cabernet Sauvignon
Best of Malbec
San Antonio Winery, Paso Robles
2010 Malbec
Best of Other Italian Style Blends
Sculpterra Winery, Paso Robles
2011 Red Blend
Best of Grenache Blanc
SummerWood Winery, Paso Robles
2013 Grenache Blanc
Best of Other Rhone Style Blends
Troublemaker Blend, Paso Robles
Best of Riesling-Dry
Wolff Vineyards, San Luis Obispo
2012 Riesling
Subscribe to weekly travel news
comments