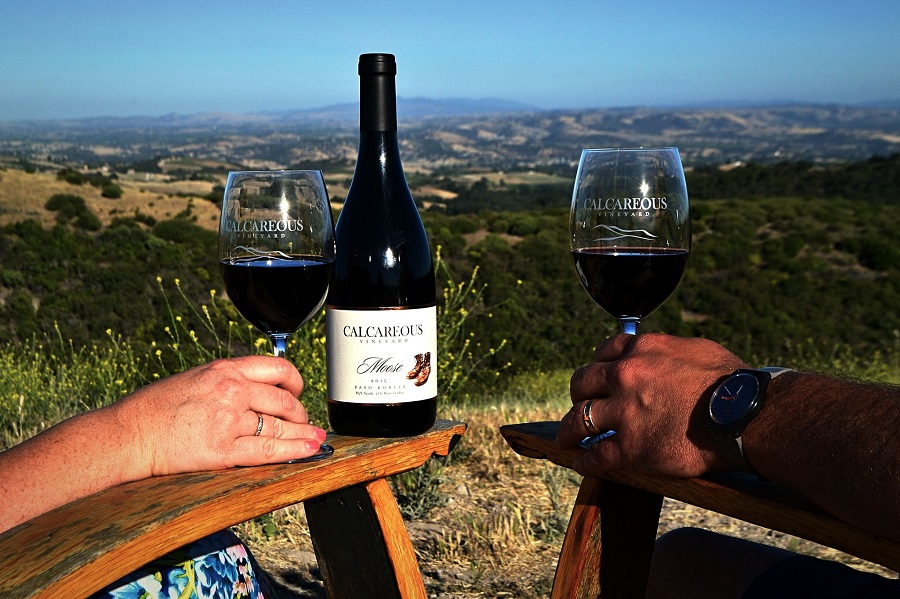 Wine and views from 1,800 feet above wine country
— Wow! Parking at Calcareous Vineyard, and strolling to the tasting room, you can't help but take in the fresh air, watch the birds of prey soaring, and look out at the vista that is in front of you. Standing at 1800 feet elevation, with an inviting lawn area and the tasting room in front of you, your Calcareous experience has begun. You will be mesmerized first by the view, followed up by the quality award-winning wines, the food, and the personable wine attendants. Calcareous is a peek into Shangri-la.
Taste the Place
As you are about to begin your wine journey, you will learn Calcareous is named for the soil. Millions of years ago, this plateau was covered by the oceans. Today, the limestone soil produces excellent grapes-and with the magical touch of winemaker Jason Joyce, you will sip and understand what "a sense of place" means when it is referred to the wine in your glass.
Jason is kind of a renegade and lets "things" develop, with minimal interference. He coaxes the character of the dirt to be expressed through the final product in your glass. Jason describes winemaking as "A renaissance profession that manifests itself through the land and the grapes, allowing them to express what they are. Winemaking is learned by doing it." And every vintage is a new, exciting experience.
Tasting Experiences
As varied as individual palates are, Calcareous offers an array of tasting options. Whichever you pick, you will be quite pleased. Some of the tasting experiences to choose from include a wine tasting with an optional lunch while gazing over the panoramic view, or an indoor lounge tasting sampling a flight of four to six of Calcareous' current releases.
Give the optional lunch some serious consideration. The seasonal menu created by executive chef Steve Smeets features everything from an elegant cheese and charcuterie board to soups, salads, an assortment of entrees, and delectable desserts. Ingredients are sourced locally, and only the freshest ingredients are used.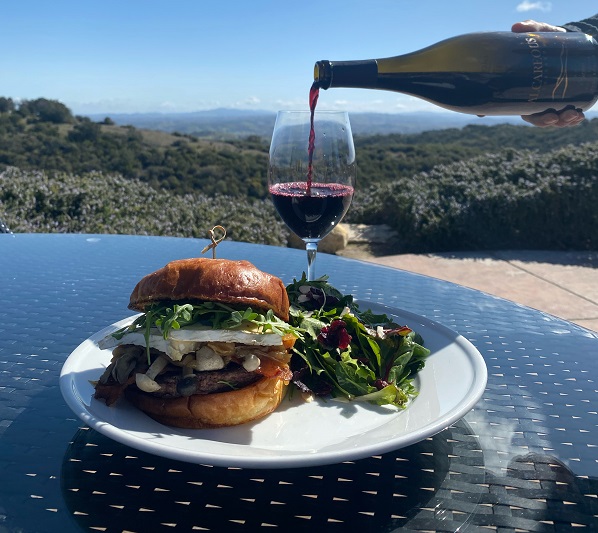 Excite your senses with a lobster lover's dream— the most delicious lobster bisque with chunks of lobster. There is also the Devils Canyon burger, Wagyu beef, caramelized onion, mushroom, Cambozola cheese, and bacon! Don't forget the double chocolate lava cake, or bourbon Crème Brûlée (to share of course).
For a more in-depth experience, and to learn more about the wine-making process, vineyards, terroir, and history, check out the Cabernet Sauvignon Elevated Wine Flight with Cheese and Charcuterie, or the special Premier Hilltop Wine Tasting and Lunch Experience.
The Wines of Calcareous
For over fifteen years, Calcareous has been producing award-winning, highly-rated wines. The unique soil and micro-climate are conducive to growing a wide range of grapes, including Syrah, Zinfandel, Cabernet Sauvignon, Malbec, Cabernet Franc and Chardonnay. In addition to their estate-grown grapes, Calcareous also sources a special Cabernet Sauvignon and Pinot Noir from York Mountain. York Mountain, adjacent to the Paso Robles AVA, at a 1500-foot elevation, produces exceptional fruit.
Since 2009, Calcareous consistently has been recognized by industry publications, such as Wine Enthusiast, Wine Spectator, James Suckling, and Jeb Dunnuck for the quality of their wines. Some recent scores (James Suckling) include 2021 Lily Blanc (92), 2020 Lloyd, Estate Bordeaux Blend (93), and 2020 Estate Syrah (92). Consistent quality is a hallmark of Calcareous.
Special Events
Be certain to check the website for special events during the year. However, mark your calendar for Wine Down Wednesdays! From June-September, sip with friends from 5 -7:30 p.m. while enjoying music by local musicians and a selection of fresh, seasonal foods. And, Calcareous is child and dog friendly for most events.
Come on up the mountain for an incomparable time blending wine, food, friends, beautiful vistas, and hospitality: The Calcareous Experience!  Cheers!
Calcareous Vineyards is located at 3430 Peachy Canyon Road, Paso Robles. Wine tasting is from 10-5 p.m. daily. Lunch is from 10:30 a.m.-4:30 p.m. daily. Reservations are required. For upcoming events, to make reservations, or for more information visit calcareous.com or call (805) 239-0289.
—Don Sonderling
comments