LXV Winery tasting room and patio
Named one of California's Top 25 tasting rooms in Paso Robles, LXV Winery recently opened its outdoor patio to host guests as they spend an afternoon or evening on the Central Coast. Adorned with grapevines and flowers, the new patio, situated adjacent to the LXV tasting room, provides a place to enjoy the Kama Sutra-inspired wine labels. In addition, there is Indian food and spice pairings, live music and naan on Thursdays, and shoeless Sundays with a Esalen trained masseuse in attendance.
Inspired by Kama Sutra
Beyond their unique events and wine/culinary provisions, one glance at LXV reveals a tasting room unlike other. Its deep blue walls, vibrantly-colored day beds and wine labels – inspired by the 64 arts of Kama Sutra – create a downtown escape that feels more like an exotic getaway. Like the wines themselves, the LXV lounge has a story: the 64 arts of the Kama Sutra, the concept around which LXV is based, are to enlighten sensual moods and intimacy. This creative connection has been applied to every aspect of LXV's Paso Robles tasting room and patio. And as LXV, the Roman numerals for 65, imply, its patrons are the 65th art.
"There is great attention to the details of smell, light, music, food, drink and touch," said LXV Owner Neeta Mittal in a recent interview with 805 Living. "Sensuality involves more than the use of the five traditional senses: with awareness and intuition, it goes beyond just sensing."
This sensory experience is heightened during LXV's wine and spice pairings, where rosé is paired with cinnamon, viognier with an exotic pepper medley, and their grenache-syrah-tempranillo blend, with garam masala. In Neeta's words, the spice takes the edge off the wine and reveals layers of complexity that lend to a deeper experience of the wine, an interaction with the ones taking place on a level you won't find at other Central Coast wineries.
Urban oasis in downtown Paso
Wandering out to their patio, where there is live music from 6-8 p.m. every Thursday during the summer and on Fridays throughout the rest of the year, patrons subject their senses to melody, sun, flowers and grapevines – not to mention, complimentary homemade naan and dips to pair with LXV's wines. As urban areas are going a bit more green, LXV has stayed ahead of the curve in creating an urban oasis in downtown Paso where patrons can come to feel like they're on a mini-vacation.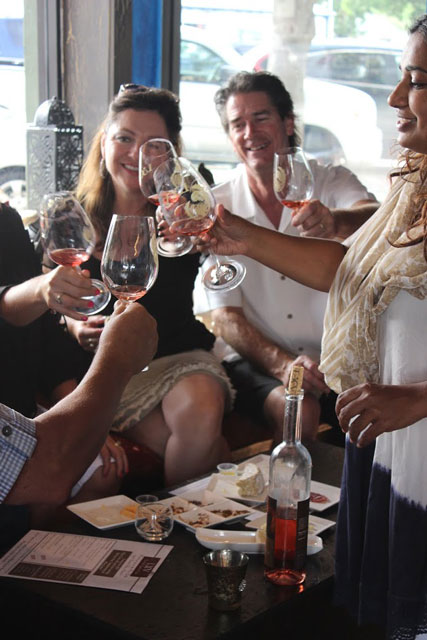 "It's ambient and memorable," said Neeta. "Paso doesn't have any other truly romantic place where couples can run off to; there are no other lounges. This is it, and we're delighted to offer couples this escape."
The patio was conceived and designed by local resident Techie James Roush, a consummate garden designer, with help from her husband, John Roush. The Roushes own the downtown Park Cinemas; Neeta cites their contributions as "a great example of how the Paso community looks out for one another."
The wines of LXV
LXV Wine is an artisanal, California Wine from Paso Robles, hand-crafted by iconoclastic winemaker Amy Butler. The wine's style adheres to the old world: minimalist and authentic, expressed via contemporary blends. LXV's honors include Best of Class (SF Chronicle), Gold (San Diego International Competition) and superb Sommelier reviews.
Though LXV currently pours 2013 Heart Note (Cab, Petite Sirah, Sangiovese, Chenin Blanc), 2012 Secret Craving (Cab Franc, Syrah, Merlot) and 2012 Rising Tempo (Grenache, Syrah, Tempranillo), and Dark Romance (Chenin Blanc), a Cabernet Franc will be released around Thanksgiving. Those who want in on the Cab Franc will need to sign up for the LXV Wine Club, as it will be a barrel-select, club-exclusive release only.
LXV wines can be found along the Central Coast of California in Paso Robles at Hotel Cheval, Second Press, Il Cortile and Thomas Hill Organics; in Cambria at El Colibri Boutique Hotel & Spa; Stax in Morro Bay; and at Vintage 1255 in San Luis Obispo and in Solvang at The Good Life. The wines are also featured at Lido di Manhattan Beach and in Beverly Hills at Nirvana and Bombay Palace.
To join the LXV Wine Club, visit www.lxvwine.com and select the "Club" tab or call (805) 296-1902. Stop by the LXV Wine Tasting Lounge at 1306-B Pine St. in Paso Robles, at the corner of 13th and Pine; open Thursday through Sunday, 1-7 p.m. and by private appointment.
Subscribe to weekly travel news
comments