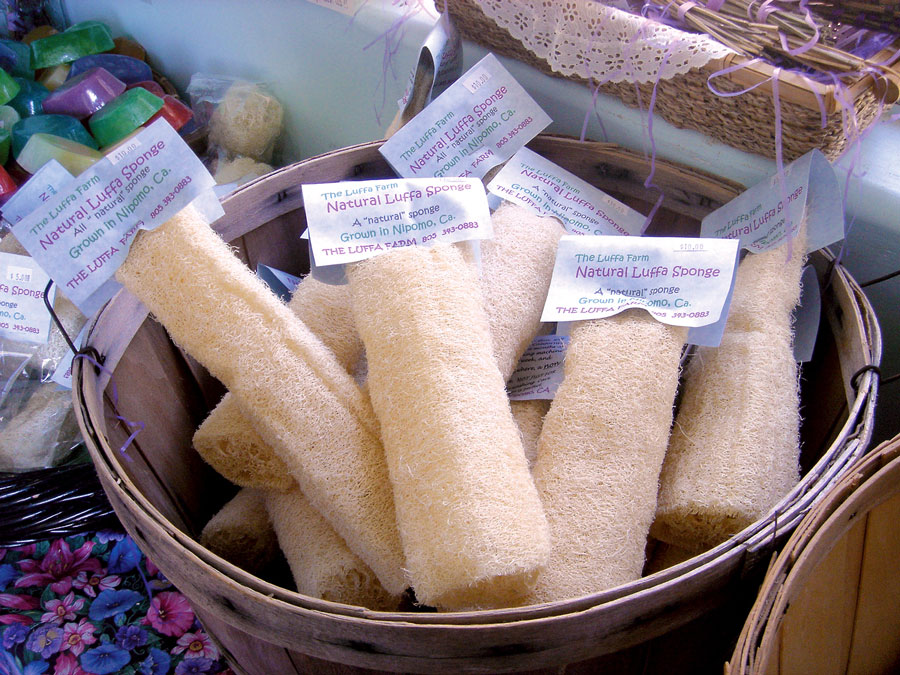 Learn how a gourd becomes a luffa, enjoy the beautiful grounds and shop
For many people, discovering luffas are plants and not sea creatures is surprising. Deanne Coon, owner of The Luffa Farm in Nipomo, is often asked, "They're sponges, right?"
"A luffa is a plant with an attitude, not unlike an orchid," Deanne said. "You know how it is with orchids – they don't do what you expect." It seems luffas are like that as well.
Deanne's introduction to luffas came when she received a bunch of seeds many years ago; she took the seeds but had no idea what they were. " I thought they might be watermelon seeds. I went to the library and looked through books to try and find out what they were."
Finally deciding that the seeds were some kind of Chinese cucumber, Deanne planted the seeds in her garden against the fencing. As they grew, she attached fishing line to the fence, the vines took off and gourds began to form. As time passed, she finally checked on the plants and found that the gourds had turned brown, dried out, and appeared dead. She picked one, heard the seeds rattling inside, peeled off the outer skin and, behold! There was a luffa. Thus began her long journey as a luffa farmer.
Nowadays Deane grows her plants in pots in three large greenhouses. "I tried growing them in the ground but the gophers attacked them," she says, "then when the afternoon winds came up, as they do in Nipomo, the blossoms blew right off the plants. No blossoms, no luffas."

Take a tour, visit the gift shop
 The luffa gourd develops at the base of the flower, grows downward at about one-half inch daily, and more than one gourd grows on a vine. When some magical moment occurs inside the gourd, it stops growing and begins to change from bright green to yellow and, finally, to brown. When it's hard and dry shake it! The seeds inside will rattle and then it's picking time.
The Luffa Farm is one of the few growers of luffa in the United States and is a "must-visit." A tour of the Luffa Farm begins with a comparison of commercial luffas imported here from other countries; these other plants are chemically-handled, causing the luffas to become stiff and abrasive. Deanne's luffas, however, are essentially non-abrasive when wet.
"You can use them to wash the most sensitive skin if you want to," she says. "Our luffas won't give you raw skin, just a good clean feeling." They can be used on the car and dishes and can be cleaned in the dishwasher or the washing machine and air-dried. After about a year of use, when they are worn out, luffas are biodegradable!
Throughout history, many cultures have used luffas in a variety of ways. They are commonly eaten as summer squash and processed for a variety of medicinal applications, and of course, the dried fibers are very useful for scrubbing.
After a tour, stop by the gift shop. Deanne also grows a variety of aromatic and healing herbs, using them in products such as bath teas, coasters, and neck wraps. She also specializes in glycerine soaps and lotions, and a variety of other unique natural bath products.
A free tour requires no scheduling, just drop in during business hours and you will be greeted by one of the tour guides. Tour buses, large clubs, and classrooms are required to make a reservation in advance to ensure appropriate staffing. Large group tours can include activities for children.
The Luffa Farm, located at 1457 Willow Road in Nipomo, is open Wednesday through Sunday, 10 a.m.- 4 p.m. Call (805) 343-0883. Luffa Farm products are available online at theluffafarm.com.
comments