Enjoy a scoop of Butter Monkey Swirl this summer and the Doc will donate 25 cents to Make A Wish Tri Counties.
A visit to the Central Coast just isn't complete without a visit to Doc Burnstein's Ice Cream Lab. With three locations to satisfy the ice cream cravings of locals and visitors, this dynamic, delicious and delightful trio of ice cream parlors offers just the right blend of yummy goodness.
Downtown SLO
Once inside, guests are transported into the fun and whimsical lab of the Doc himself – the zany, white-haired Einstein-like cartoon character from the business logo. Bright colors light up the wall of ice cream flavors, and an ice cream waterfall cascades to the floor – guests find themselves in a Willy Wonka-like place, but there is no licking the ice cream on these walls.
The Doc Burnstein's signature train makes its rounds as visitors proceed toward the floor-to-ceiling window that looks into Doc's Ice Cream Lab – that's where the ice cream magic happens as Doc's delicious and wacky ingredients float through the air and into the ice cream machine, awaiting the taste buds on the other side.
Arroyo Grande historic site
The original ice cream parlor has been a mainstay in the Village of Arroyo Grande for decades. The staff at the authentic, turn-of-the-last-century parlor makes their own ice cream inside a 100-year-old historic building.
Enjoy the delicious ice cream served in glassware while delighting at the model train circling the parlor. For a truly memorable experience, join the Ice Cream Lab Show every Wednesday at 7 p.m.; learn the history of ice cream and invent a brand new flavor.
Old Orcutt shop
Although the Old Orcutt location is a smaller than the other two shops, this nostalgic parlor boasts that same key ingredient – serving up endless variations of delectable ice cream in glassware, just like the Arroyo Grande shop without the Lab Show. Stop by and check out this wee-bit-smaller parlor with its bigger-than-average servings of delicious delights.
Lexi Brown's Make A Wish flavor
Lexi Brown, an 11 year old girl who was diagnosed with fibroblastic sarcoma; a cancer that affected the connective tissue in her thigh, was granted the opportunity to create a flavor by Make A Wish Tri Counties.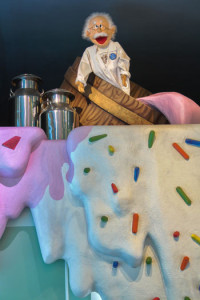 Butterfingers, her favorite candy bar, inspired the flavor. The flavor, coined by Lexi as Butter Monkey Swirl, has peanut butter, fudge and pieces of the candy in it. Lexi even helped to create the first batch with Greg Steinberger, Doc Burnstein's owner. The Doc will be donating 25 cents from every scoop sold this summer to Make A Wish Tri Counties.
Lexi said that she hopes the flavor will help children who may also be going through treatment find some comfort.
Doc Burnstein's Ice Cream Lab is located at 114 W. Branch St. in Arroyo Grande; (805) 474-4068; open Sunday-Thursday, Noon – 9 p.m. and until 10 p.m. on Friday & Saturday. In downtown San Luis Obispo, stop by 860 Higuera St.; (805) 474-4068; open Sunday-Thursday, Noon – 10 p.m. and until 11 p.m. on Friday & Saturday and at 168 W. Clark Ave. The Old Orcutt location is open Monday-Friday, 2 – 10 p.m. and Sunday-Thursday, Noon – 9 p.m. Check out docburnsteins.com for more information.
comments