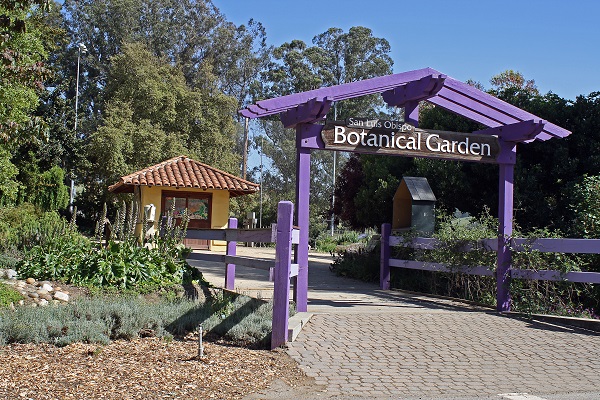 —If you like learning about beautiful drought-tolerant plants that thrive on the Central Coast, then you'll enjoy visiting the San Luis Obispo Botanical Garden. This garden is devoted to showcasing unique plants from the five Mediterranean climate regions of the world.
The San Luis Obispo Botanical Garden came about through the interest and hard work of Eve Vigil.  In 1989 while she studied at Cal Poly University, her professor suggested planting xeriscape gardens locally. Friends of San Luis Obispo Botanical Garden, a 501 (c) 3 nonprofit volunteer organization, acquired the use of 150 acres of El Chorro Regional Park and has developed a master plan that is in its final stages of approval this year.  Eve continues to maintain and guide the garden today, along with a growing hard-working staff, a robust group of volunteers, a board of directors, and an expert team of knowledgeable docents and plant enthusiasts that help maintain and grow the garden.
San Luis Obispo Botanical Garden values sustainability, environmental education, horticultural research, and celebrates the aesthetic value of diverse plant life. The San Luis Obispo Botanical Garden is open during daylight hours, ADA compliant, dog friendly, and a great place for inspiration and relaxation.
The Garden's planted areas include the Display Garden, the Children's Garden, the Fire Safe Garden and more. The Garden's Education Center and Gift Shop serve as the visitor entrance and provide a beautiful and sustainable event space for Garden programs and event rentals. Visitors are encouraged to walk the 1.7 mi. Discovery Trail, to enjoy the sweeping coastal vistas, and learn from the educational signs.
Walk and Talk with Eve Vigil
Walk and Talk with Eve Vigil in the Botanical Garden on the first Wednesday of every month from 11 a.m. to noon. Subjects may include the garden's history, what's in bloom, important maintenance, or whatever interests the group. Meet new people and learn great tips for your own stunning water-frugal garden. The tour is free with your paid admission or membership, no RSVP, just show up and enjoy.
Events and activities
There's something happening all year. Activities include Nature Nights, Youth and Family Programs, Story Time, bird walks, and much more. The Garden holds Art in the Garden and plant sales every spring and fall in addition to the local art and volunteer-propagated plants available all year in the Gift Shop.
Visiting the Garden
Admission is $10.00 for adults, free for children 12 years old and under and for Garden Members. Pay online, in the Gift Shop, or in the pay station near the entrance. El Chorro Regional Park charges $3 per vehicle for parking on weekends and holidays from April through September. Garden Members receive a wide variety of benefits, including discounted programs, plants, and gift shop items, as well as free admission and more offered at participating Garden and arboreta across North America.
The SLO Botanical Garden is located at Highway 1 at El Chorro Regional Park and are open daily during daylight hours. For more information visit www.slobg.org or call (805) 541-1400.
– Story and photos by Ruth Ann Angus
comments