Bite off a silky chunk of fudge and delight in a cone of handcrafted ice cream
A tradition since 1976, Doc Burnstein's in Arroyo Grande is located inside a picturesque 100-year-old building that seems to have a life all its own. The local hangout and hub for families is famous for their high-quality homemade ice cream flavors and exciting environment. Doc Burnstein's is a long-time staple in the Arroyo Grande village where visitors can find custom silk fudge, cakes, and premium delicious ice cream varieties.
This location is the perfect place to brighten the day of any child or adult, and it's fun quirky Willy-Wonka-esque decor encourages everyone to experience a bit of nostalgia. Travelers are welcomed to bring the magic to life and interact with a wall of dials and switches, place a secret token into the display and bring a four-foot ice cream franken-cone to life. The "cryogenic freezing" and blast of cold air is sure to get any child's attention!
Sweet swirls of fudge, chunks of chocolate, and fruity blends are fun to taste, and the service can't be beaten. Focusing on high quality, this place is sure to keep children entertained, and adults enticed. Delight in the toys, trinkets, and treats Doc's has to offer, as well as immersive experiences for children,  found nowhere else on the Central Coast.
"The Doc" aka Steinberger, has some pretty big goals, and a bigger heart. Later this year the company plans on opening their first location out of SLO County, in Sacramento. The new spot in Northern California will be built upon a previous ice cream shop, and Steinberger plans to breathe new life into it, helping revive the fun of ice cream, and keep happiness flowing in the community. His recipe for success is sure to provide a way for it to continue.
Steinberger said, "The business is excited to expand into the Sacramento market, perhaps Auburn, Folsom, and the valley after that. "We have the drive to grow and want to become the most beloved ice cream in America, and we are hoping to have 100 shops in the next 6 years." The fresh local quality and fun atmosphere of Doc Burnstein's will be bringing excitement to children everywhere.
The business supports local schools, fundraisers, the Make-A-Wish Foundation and many more. This summer, they have a special child chosen named Simon who is excited to launch his custom flavor, which is inspired by the film Star Wars. It will be reminiscent of a blue lightsaber will have a base flavor of creamy cake batter, blended with Wonka Nerds and blueberry swirl. For every scoop sold, Doc will donate 25 cents to the Make-A-Wish Foundation, and successfully, last year The Doc collected $20,000 from customer donations which helped four families grant wishes to their ailing children.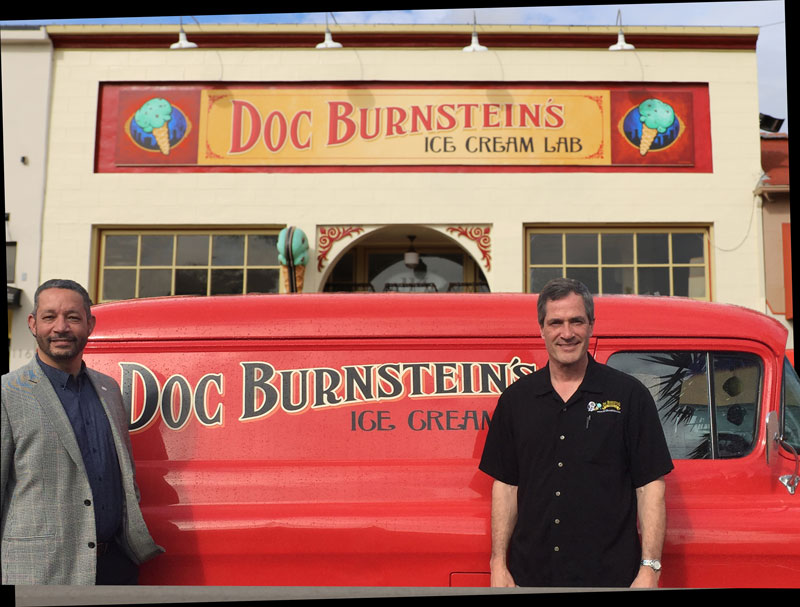 Launching this summer, a new chocolate line will be coming into production, and owner Greg Steinberger is extremely pleased. He said, "While launching this chocolate line, we did comparisons to six other chocolates in a blind taste test. The results were unanimous, and ours was the winner. We are hoping to launch it at the end of July.
Greg dreams of one day combining tours of a chocolate factory and ice cream plant, creating a visitor's center that rivals Ben & Jerry's. Today Doc Burnstein's is known for hosting creamery tours in their Grover Beach production facility, in addition to year-round events, fundraisers and family fun.
Steinberger keeps the old ice cream parlor in top shape, repairing, and adding to the many wonderful little details which make it such a special place. Although parts of the train track have been in place over 38 years, it has been enhanced with tunnels through walls, and suspended tracks. He hopes to make trains a staple in every business. We are in the memories business. We want to be both nostalgic, and make new, fun memories for all."
Doc Burnstein's is located at 114 W Branch St. in Arroyo Grande. It's open from 12 – 9 p.m. Sunday – Thursday, and 12 – 10 p.m. Friday and Saturday. For more information, visit www.docburnsteins.com or call (805)474-4688
–Cassandra Frey
comments