Owner Penny Rodriquez puts her heart and soul into this charming eatery
Penny Rodriquez walked into the All American Cafe as a server in 1989 — today she has been the owner for the last thirteen years. She has made the cafe her own in every sense of the word, from her favorites on the menu to adding her name to the sign out front.
Located on the corner of Price Street and Wadsworth Street in Pismo, Penny's All American Cafe is a central part of the community and a favorite stopping place for out of town guests.
"I fell in love the minute I first walked in – and I still love my job after all these years. My customers are my bosses now. I offer them a place to come and feel comfortable with great service and consistently delicious food," says Penny.
The fun, friendly atmosphere she attributes to the people behind the scenes. "My crew has worked together for over 10 years and they know how much I appreciate them. My cook is not any more important then my dishwashers. My servers are not any more important then my bussers. They are all needed to open my cafe everyday."
Penny's enthusiasm for life spills out the doors of her cafe, making a daily impact on her customers and her community.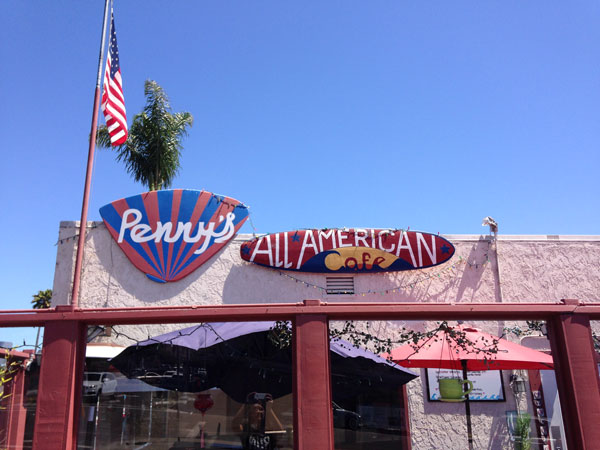 "I try my hardest to give back to my community. We do an annual pancake eating contest every year and we pick a different charity to sponsor. We donate our strawberry jalapeno jam sales and we have raised thousands of dollars, which have been donated to the food bank, the ALS Association, and Hospice. Our 8th annual Breast Cancer Fundraiser will take place in October with a huge giveaway this year. Last year we raised over $16,000 to the Jacqualyn Palchak fund in Pismo Beach as well."
Penny's All American Cafe offers traditional American cuisine. Their most popular dishes include an award winning "Chuck Wagon Chile Verde," and their clam chowder which won the 2013 Pismo Beach Clam Chowder Festival. But Penny's personal favorite is easy to spot on the menu: Penny's Favorite Omelet.
"My favorite aspect of my job is the people. I love people and making them happy! Having the true pleasure of owning my cafe in this community is my gift. I am very blessed to have my children work for me as well. My son Ryan is an integral part of this cafe, where he operates as the manager.
I'm often told – 'Penny, you need a larger place!' But I'm very happy with what I call 'My little gem of a cafe."
Come visit Penny at her All American Cafe in Pismo, Open from 6 a.m. to 2 p.m. on weekdays and 7 a.m. to 2 p.m. on weekends. 1053 Price Street, Pismo Beach, California 93449 (805) 773-3776.
– Katie Marchetti
comments