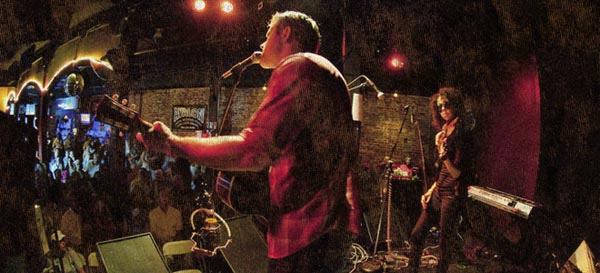 – After 27  years in downtown San Luis Obispo, SLO Brewing Company has announced the expansion and relocation of its restaurant, bar and concert venue to a new space on Higuera Street this December.
The new SLO Brew is slated to open in December at 736 Higuera Street, just a few hundred feet away from the original Garden Street location and still in downtown San Luis Obispo. Located in the historic Carissa Building, the new space will feature new elements, including a wood-fired pizza oven, an outdoor, creek-side dining patio with fire pits, and four all-suite lofts designed with a modern urban aesthetic on the upper floor. The restaurant, bar, brewing tanks and "kettles," and the concert stage will share the 6,500-square-foot first floor, while the Whiskey Lounge will overlook the main floor from the mezzanine, complete with reserved seating, bottle service and a private bar.
The planned lofts are two-and three-bedroom self-contained units, complete with kitchens, dining areas and living rooms with fireplaces. While located above the brew, on the second floor, they will have a separate entrance and can be reserved through the SLO Brew website or VRBO.com. The heart of The Lofts is the Carissa Club, featuring a gourmet kitchen, lounge area, fireplace and billiard table, as well as a meeting space, and a large private roof top deck overlooking San Luis Obispo Creek and the nearby Mission. The Carissa Club is reserved separately.
SLO Brew co-owner Hamish Marshall is, "adamant that the quality of the musical performances will continue to be top-shelf when the doors open at the upgraded SLO Brew building and that the dance floor will remain."
"The upgraded SLO Brew will keep the local spirit it's always had," said Marshall. "The concert experience will still be intimate, but we will now be able to offer more dining options, an enhanced sound system and innovative design elements, along with fresh brews and pub-favorite food pairings."
In addition to the SLO Brew move, SLO Brewing Co. is also constructing a second site, to be known as The Rock. Located off Broad Street, near the airport, this new brew facility will expand their production capacity, and will feature a tasting room, restaurant, and event space. Already on tap at over 30 local restaurants and bars in San Luis Obispo County, SLO Brew says that it has plans to ramp up beer production and their commercial distribution. The Rock is scheduled to open early in 2016.
comments