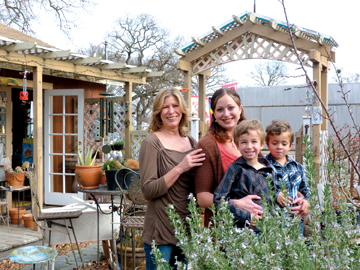 Visitors to Adelaide Floral in Templeton never know what they are going to find when they walk in the door. Seasonal flowers, indoor plants, candles, cards and gifts of all kinds adorn the inside of the store, and the adjoining courtyard offers a variety of outdoor plants. Now, customers can shop in the new Kid Corner, which opened last summer. Customers can pass through the garden to the children's boutique, which offers clothing, books, educational toys, art supplies, and gifts designed to fit a variety of budgets.
Jane is assisted in running Adelaide Floral by her daughter, Danielle.  Danielle has been a part of the shop since she was five years old, and has learned the floral business through her work there. Her twin five-year-old sons Kaiden and Kolby have also grown up as part of Adelaide Floral, and are often found in the shop.
Adelaide Floral is in its twenty-second year, and Jane and Danielle are enthusiastic about their business and the new adjoining Kid Corner. Adelaide Floral continues to offer the same floral design and delivery services that it has for years. They have a website which can help customers select and order flowers as well.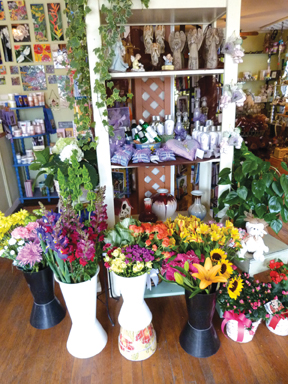 The store also sells candles, balloons, stuffed animals, gourmet baskets and chocolates—all of which are popular Valentine's Day gifts. Jane and Danielle say that they can plan on Valentine's Day and Mother's Day to be the biggest days of the year. Flowers from Adelaide Floral are also popular for special occasions such as weddings, birthdays, get well, anniversaries, and funerals. Jane says that many of their patrons are local, repeat customers who have been buying flowers at Adelaide Floral for years.
Jane, who started out in the floral business by designing flowers for weddings from her home, says that her favorite part of her business is growing and arranging flowers. Jane studied floral design with Bob Gordon, a horticulture professor at Cal Poly San Luis Obispo. Jane and Danielle grow some plants and flowers at home in nearby Adelaide, as well as in the gardens surrounding the store. Jane says that they grow mostly greens, lavender, seasonal flowers and some bulb flowers.
Jane and Danielle aim to buy fresh local flowers whenever possible.  Trucks from Nipomo and Salinas come through daily with fresh locally grown flowers. Jane describes their specialty as "stylish arrangements using unique, artistic flowers."
Another feature to Adelaide Floral is the selection of live plants. Jane says that she and Danielle planted spiral beds using mushroom compost with many of the plants that they offer for sale.   Customers can see the mature versions of the plants they are considering for their own gardens. This is just one of the many products and services visitors to Adelaide Floral in Templeton will find waiting for them at this charming local business.
Adelaide Floral is at 300 South Main Street in Templeton, and is open Monday – Friday from 9am – 6pm and Saturday from 9:30am – 4pm.  Call to place an order, (805) 434-2997 or visit their website, www.adelaidefloral.com.
comments