Fine wine and gourmet food
For visitors who love tasting gourmet foods paired with fine wines and shopping for unique gifts, a stop at Fermentations on Burton Drive in Old Town Cambria is a must. Here, visitors will find owner Eric Frederickson pouring selections from area wineries. "We've been in business here for 16 years, " Frederickson said, "and we find people come back year after year. We offer wines from small production wineries that are reasonable in price."
Fermentations has been featured in the LA Times, Vintages Magazine, Travel & Leisure, and more – and these well-known publications have sung the praises of the "Fermentations lifestyle." At Fermentations, travel, adventure, and intimate dinner parties are the spice of life and are celebrated through the atmosphere and the wares in the shop.
Another specialty of this tasting room is the pairing of a variety of gourmet food items that are sure to delight the taste buds. Popeye's Passion is a garlic and spinach dip; another popular option are Taralli Italian Gourmet Pretzels, which are low in salt, fat and calories and are cholesterol and sugar free. Eric suggests that guests dip them in red wine just like they do in Italy. Another popular item is Champagne Chocolates, which are shaped like champagne corks. Under the Fermentations label, guests can find Balsamic Vinegar, Citrus Cilantro Grapeseed Oil, and Extra Virgin Infused Olive Oils. Their Fig Lemon Balsamic Vinegar is delicious on spinach salad with pears, walnuts, and Stilton cheese or drizzled over cooked vegetables.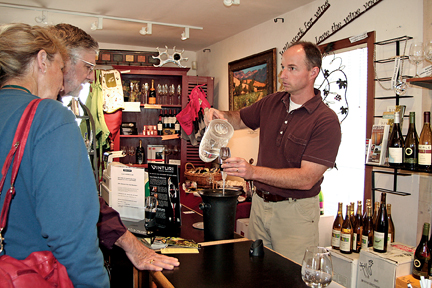 Guests are able to sample an assortment of fine wines and tastes of gourmet foods, as they browse this eclectic shop that offers stemware, picnic baskets, corkscrews, bottle stoppers, decanters, wine chillers, wine racks, placemats, aprons, shirts, and items for home decoration such as metal wine signs.
Fermentations also has a Food and Wine Club. Members receive a 20% discount on store items and wine. The club shipments pair wine and food, and there are three shipments per year (in January, May, and October). Each shipment contains two bottles of wine, one gourmet food item and a recipe for pairing the food item with the wine. Club members can choose among reds, whites, or both, or sweet wines. "Many people are opting for deliveries of just wine," Frederickson said, "so we supply three bottles of their choice for those members."
While visiting this scenic section of the north coast you will certainly enjoy a stop in at Fermentations.
Fermentations is located at 4056 Burton Drive in the East Village of Cambria and is open daily from 11am to 7pm Monday through Thursday and 10am to 10pm Friday through Sunday in winter and spring. Summer hours are 10am to 10pm daily.
— By Ruth Ann Angus
comments