Mistura focuses on sustainability with each dish
—Nestled in the heart of downtown San Luis Obispo at The Creamery Marketplace, the Peruvian restaurant Mistura offers a culinary adventure with an eclectic menu and passionate, highly skilled staff. After relocating from Paso Robles to their current location in May 2019 Mistura continues to offer an unmatched experience to locals and visitors alike.
"We bring in Peruvian culture, every single ingredient we get is all locally sourced. Our food is different from any other, from fresh raw seafood like ceviche to steak to stir fry, we have everything," said Chef Nicola Allegretta. Chef Nicola and his wife, Jackline Ortiz De Zevallos Allegretta, own Mistura and Mama's Meatball, also located in The Creamery Marketplace.
Each dish is produced with the highest quality ingredients and care. Livestock, fish and produce are all sourced locally and grown sustainably. Mistura is rooted in the philosophy that true nourishment comes from sustainable farming practices. The dishes encompass the multicultural diversity of Peru ranging from Incan to Spanish and Japanese cuisine; invigorating flavors of seafood and spices and gorgeous meal presentations that showcase each ingredient. Along with Chef Nicola's esteemed international experience in the culinary world, Mistura also counts Michelin Star recognized Pastry Chef Florencia Breda among its excellent staff.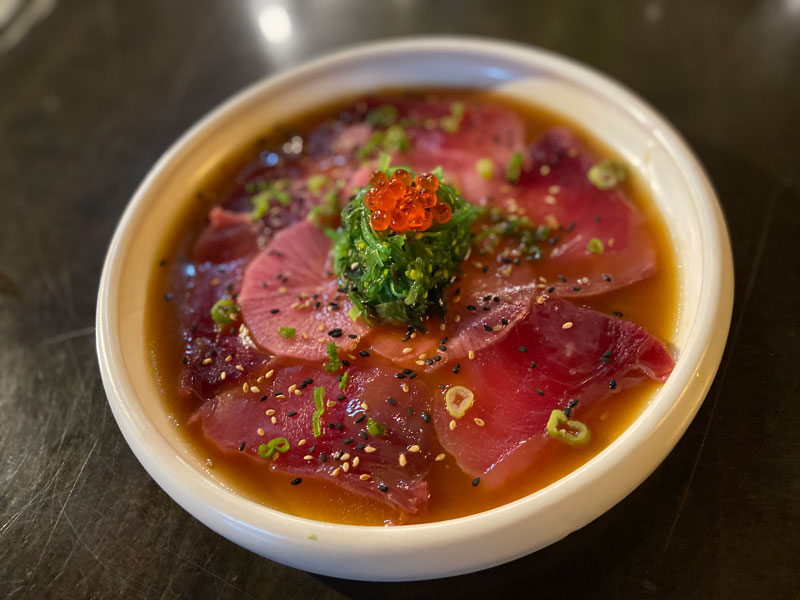 "Mistura is keeping its integrity as being one of the most innovative kitchens with unique cuisine on the Central Coast. Mistura provides a gastronomical experience with every dish. Chef Nicola understands and practices the art of plating in ways that truly transforms the dish into a spectacular presentation. Our chefs have a passion for their craft that exudes onto every plate," said Marketing Director Sharon Breda.
Be sure to enjoy one of the many popular dishes at Mistura, such as the delectable Rompe Muelle with Leche de Tigre, Roasted Yams and Andean Cancha, the Pescado with Amazon Paiche and flavorful Anticucheria Sauce, or the Arroz Con Marisco with rotating types of seafood and paella. After enjoying an elegantly crafted entree, sample one of Mistura's delectable desserts, such as the Alfajores cookies filled a delicious caramel Cajeta sauce, the gluten free La Flor chocolate cake, or the Platanero banana flambe adorned with quinoa and gelato. If you're looking to round out your meal in true Peruvian fashion, order the Emoliente, a traditional Peruvian drink with Amazon Rainforest herbs and plants, all curated for digestive wellness.
Outdoor dining is provided in the Creamery Courtyard. Along with the regular menu, a special "Daily Meal Deal" containing a full three course meal is available for takeout or courtyard dining for only $20. Takeout is available from 5 p.m. to 9 p.m. Courtyard dining is available from 11 a.m. to 5 p.m. Mistura and Mama's Meatball share the same courtyard.
As Chef Nicola says, "Stay healthy, eat good, and enjoy life!"
Mistura is located at 570 Higuera St in San Luis Obispo. Open daily from 11 a.m. to 9 p.m. For more information, call (805) 439-3292 or visit misturarestaurants.com.
—Sadie Mae Mace
comments