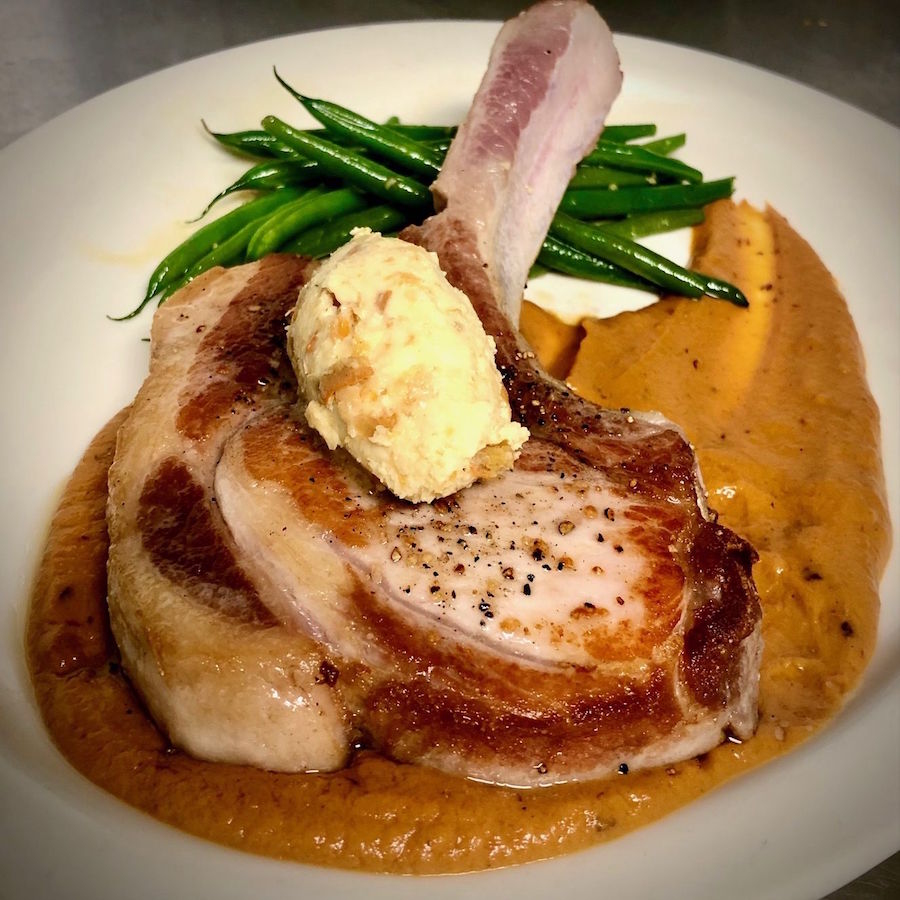 New restaurant gives a modern, hip vibe to Templeton Main Street history
When Taylor Odenwald was working his first job as a teenager at AJ Spurs in Templeton, he joked that one day he was going to own the place. Life has a way of working out and it certainly did in a big way in this case. In late 2020, Odenwald convinced four friends to purchase the historic building at 508 Main Street that formerly housed AJ Spurs. The five owners set about bringing a fresh modern concept to Templeton's Main Street while restoring the historical value of the building.
The first step in this project, Pig Iron, serves up California comfort food, local beer and wine and handcrafted cocktails by award-winning bartender Jose Sanchez, formerly of Sidecar in San Luis Obispo. The restaurant boasts a coffee/espresso bar and a menu that includes tri-tip sandwiches on locally fresh baked bread, sumptuous seafood dinner specials, an unforgettable pan seared Kurobuta pork chop, their signature Farro crunch salad tossed with a light, spicy house made vinaigrette dressing. The menu features locally sourced ingredients, often purchased at the Saturday morning Templeton Farmer's Market. A few of the local ingredients are Mighty Cap mushrooms, Etto pasta, Spearhead coffee beans, La Migliore bread and Alle-Pia sausage. Local goods are also sold in the darling mercantile.
The future of history
The ownership team includes local contractors Odenwald and Wyatt Ayers and is rounded out by Seth Roberts, a professional artist, Jeremy Limpic, a marketing technology professional, and Joe Daniels, a journeyman machinist. From the start the team's vision was to bring the Templeton Mercantile back to life.
"One of the biggest motivations for buying the building was we didn't want something bad to happen to this place. We appreciate the building. We felt like downtown needed to still have this restaurant as an option," said Odenwald.
The Templeton Mercantile building shares a long history with several other buildings in Templeton, which was founded in 1886. Over the years it was a butcher shop, a grocery store and for a short time a girl's finishing school occupied part of the building. From the 1960s to the early 1980s, the building housed the Iron Horse restaurant. AJ Spurs continued the cowboy bar tradition, becoming a gathering place for young and old.
When the project is finished the Templeton Mercantile will house Pig Iron, Ms. Finley's Finishing School, this time as a cocktail lounge with slightly less refined clientele and the Engine Room classic steakhouse. The restored Templeton Mercantile will serve the full dining experience: coffee, breakfast, lunch, cocktails, dinner and evening entertainment in the bar. It's sure to be the food and fun center in Templeton!
"Everybody has chipped in. Since day one, everybody wants us to succeed. Local folks share our vision. It's a passion project," said Odenwald.
Welcome to a new tradition
The owners and staff of Templeton Mercantile invite you to experience Pig Iron for lunch, dinner or Sunday brunch and watch as the Engine Room and Ms. Finley's Finishing School take shape.
Guests can enjoy sunny afternoons on the patio and be warmed by heaters and a fire pit lounge when the Templeton Gap marine layer cools down the evenings. Reservations are required for parties of seven or more. Gift cards are available online or in the mercantile shop. Private parties, special events and to go orders are available.
Pig Iron, located at 508 S. Main Street in Templeton is open Thursday 4 p.m.-9 p.m., Friday-Saturday 10 a.m.-9 p.m. and Sunday 10 a.m.-8 p.m. with brunch served until 2 p.m. For the menu, reservations or more information visit pigirontempleton.com call (805) 400-4542.
comments