Taste award-winning wines while enjoying stunning architecture and grounds
–Brecon Boutique Estate Winery is located at 7450 Vineyard Drive, in the midst of majestic oak trees in the rolling hills, just outside of Paso Robles, California.
Owners, Amanda and Damian Grindley met on a cave exploration in Australia. Both are avid cave explorers. Damian studied landscape design and wine making, while Amanda studied bats, fossils & caves. "Brecons National Park in Wales is a place that we've always loved and is very near and dear to Damian's heart," Amanda shared as the reason that the couple decided to open the winery and name it Brecon in April of 2014.
Damian is an international award-winning winemaker, who produces exquisite wines that have won over 140 platinum and gold awards in only two and a half years.
The building is a masterpiece. "The architect who designed the interior, went on to win the Smithsonian National Design award in 2013," Damian said. He mentioned that it was fortunate that the award was given after he designed Brecon, because it likely would have made him unavailable due to subsequent international demand.
The tasting room's wine bar is open to the scenic property and wine can be enjoyed indoor or alfresco.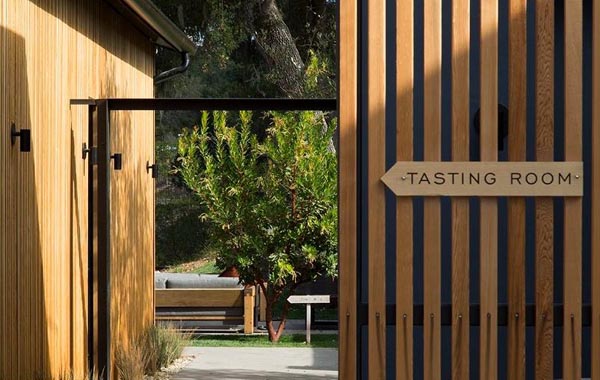 "There is no question that Paso Robles has the necessary climate to produce world class wines. There are 26,000 acres of vineyards in the region and our Cabernet vines are the oldest on the west side," Damian said, as he threw the ball to his dog Roy.
Brecon's Award-winning, small batches of premium wines sell out quickly and cannot be purchased anywhere else. Brecon's 2014 Syrah and Mourvedre were just awarded 93 points by The Wine Enthusiast.
The 2013 Petite Syrah is described as a great winter warmer, fireside wine. It exudes deep hues and a big fruit punch. Damian suggests that you store it for few years and the rewards will be unmistakably fabulous.
Brecon's signature food wine is a pure 100-percent Albarino. The marine fog plays an essential role in cooling these grapes, resulting in a longer ripening period. This wine exudes intense tropical flavors with a white peach character.
Brecon's 2012 Reserve Cabernet is aged 22 months in French oak, resulting in a divine, silky, smooth finish.
It's a well known fact that people come from all over the world to Paso Robles to enjoy the fruit of Mother Nature. After, of course, a valuable assist from gifted craftsman like Damian Grindley.
Brecon Estate is open daily from 11-5. They are located at 7450 Vineyard Drive in Paso Robles. For more information, call (805) 239-2200 or visit breconestate.com.
–Donna Polizzi
Subscribe to weekly travel news
comments