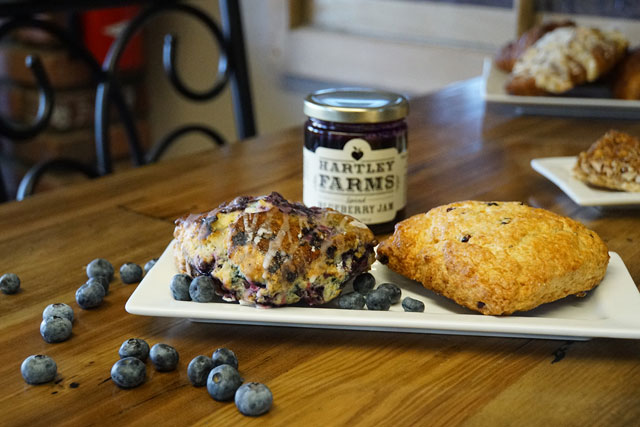 In the heart of downtown, taste one of their unique square cupcakes, delightfully frosted, and topped with sweet and colorful accents
Fresh from the ovens at Sweet Zulu Bakeshop visitors can explore the many cupcakes, pastries, cakes and lunch items which are proudly served up by two Paso Robles transplants that have a love of baking and all things delicious.
Find that special "made from scratch" taste that they are famous for. Sweet Zulu Bakeshop's amazingly beautiful and gourmet square cakes are handcrafted with pure, organic, non-GMO ingredients. The finer things in life can be found, and they love to use fresh organic strawberries, bananas, sweet creamy butter, bourbon vanilla, and organic Belgian chocolate in their treats.
Married couple Christo and Riana De Nysschen are two bakers with an eye for design, a well-developed palate, and warm, welcoming personalities. Their downtown Paso Robles Sweet Zulu Bakeshop is a destination to be explored after a day of wine tasting or early in the morning, after a comfortable night's rest. Lamingtons, macrons, and hearty staples like breakfast sandwiches, avocado toast and lunch sandwiches are presented with the utmost precision, love and care.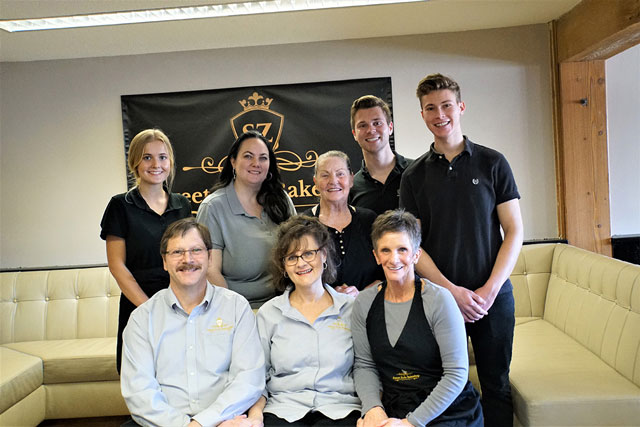 Flavorful soft-baked peanut butter cookies will have you going back for more, and the velvety, decadent finish is hard to surpass. Swirling, colorful, creamy confections that tempt even the strongest of wills entice customers daily-starting at 8 a.m. The De Nysschen family has a keen attention to detail, wonderful customer service, and impeccable rave reviews with 5 stars on yelp.com. Their gourmet square cupcakes have layers of decadent flavor, and can be paired wonderfully with a crisp, clear glass of Paso wine, while being enjoyed in their spacious and sweet smelling bakeshop.
The married couple and family of four originally came to the US in 2006 from South Africa, but after a devastating cancer diagnosis for Riana, she was told to alter her diet, and had to avoid most of the products she knew and loved. Riana decided to start baking things on her own to control the ingredients, and ended up baking not only for herself, but for other people too. This realization and passion for exceptional quality and flavor lead her to become the master of baking she is today.
Riana decided to register a cottage business in 2016, where she taught her husband how to skillfully bake. While Christo was busy baking, Riana was decorating the goodies and exploring a whole new culinary world of beautiful designs and flavors. In 2018, they got the opportunity to open their very own bakery, and the rest is history after hiring a talented baker who helps to fill all their orders.
Creating delicious treats also goes hand-in-hand with high quality, and Sweet Zulu Bakeshop makes it their focus to use organic, non-GMO, natural, and local ingredients as much as possible. Mrs. De Nysschen says, "I grew up in a family where the women can cook, bake, and do lots of artsy things, and I loved to bake. Finally we got the opportunity to open up a storefront in 2018, and it was very exciting to have a spacious location where people can come together, relax and have fun while enjoying our wholesome desserts."
The couple loves to celebrate their cultural heritage from home, and they have perfected and make many of the well-known South African treats like lamingtons, fudge, milk tarts, cremora tarts, pineapple marshmallow tarts, and peppermint crisp tarts. Sweet treats aren't the only thing on the menu, and customers can also enjoy coffee, tea, milk shakes, beer, wine, lunch and sandwiches.
Known as one of the best bakeries in Paso Robles, they specialize in custom event platters, wedding cakes and services, and rent out their space for small gatherings. Sweet Zulu Bakeshop is conveniently located just 2 blocks from the downtown city park where customers can stroll around after a delicious treat. Outside, you'll find ample seating where a little bit of sunshine can be caught or cozy up indoors among the relaxed and casual environment. "Paso Robles is a beautiful place, close to the coast and is full of interesting stories and nature," says Riana.
Sweet Zulu Bakeshop is located at 1111 Riverside Ave Suite 101 in Paso Robles. Open Monday-Friday, 8 a.m. – 5 p.m., Saturday: 8 a.m. – 4 p.m., and closed on Sundays. For more information, call (805)369-2268 or visit www.sweetzulubakeshop.com.
– Cassandra Frey
comments