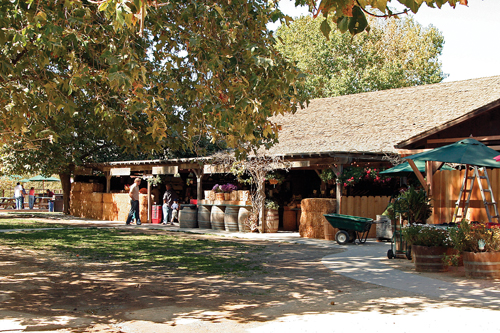 Avila Valley Barn & Gopher Glen Apple Farm
One thing you can say about Avila Valley Barn: it is not just a farm stand. There is so much to do and see at this family-owned farming complex that it is a destination in itself.
Owners Debbie and Bruce Smith and their family came to the Central Coast from Bishop in 1987. "We were on a quest to make a change from the mountains to the seaside, with the Lord's direction," Debbie Smith commented. At the time the previous owners of the farm were looking for a couple to hire and Debbie and Bruce were ideal. "I come from a hay farming background," Smith said, "and Bruce was a PRCA bull rider when I met him. We love the outdoors." Smith was hired to come up with a good marketing plan for the roadside stand and to say the least, she has been successful. After many years as employees, the Smiths purchased both Avila Valley Barn and Gopher Glen Apple Farm in See Canyon.
A visit to Avila Valley Barn offers kids and adults alike the opportunity to be farmers for a day by hopping onto the hay wagon and heading out to the fields and orchards for some u-pick fruit and vegetables. Depending on the season, visitors can pluck berries from the vines, juicy peaches and nectarines or bright red apples from the orchard and in fall kids get to choose their very own pumpkin.
If u-pick is not your thing, all the produce is also offered in the farm stand. There is plenty to choose from, including corn, squash, beans, onions, tomatoes, peaches, pears, apples, and nectarines. Starting in May there are cherries, ollallieberries, and raspberries. The Barn keeps a calendar on their "In Season" page on their website listing when each item is available and also places advertisements in local papers.
The whole family can have fun giving treats to the farm animals too – step inside the farm stand to pick up a bag of vegetable scraps. Saucy roosters strut around on the loose and you can watch the antics of the goats in their pens. There are cows, goats, ducks, geese, chickens, sheep, ponies, and peacocks. Pony rides for the kids were started this year by Smith's son Jacob and his girlfriend Raven. Jacob is now in charge of farming all the crops.
"I want to share that part of agriculture with everybody so they can have an amazing experience," Smith said. All the family gets involved helping out at the farm stand. Roger, 16, Russell, 12, and Theresa, 13 do things like selling corn from the corn roaster, preparing cherry baskets or cutting up vegetables for the farm animals.
Smith also employs a farm crew and employees to work at the stand and doesn't forget their dedication. This year at each one's birthday she had balloons blown up, tied ribbons on cups and mugs and filled each with a gift certificate. Then she gathered everyone around and they all sang a chorus of Happy Birthday.
As you stroll around the grounds you probably won't be able to resist the aroma of some of the baked goods wafting out of the bakery. There are picnic tables and benches for you to sit at and enjoy a cup of fresh apple cider or some hot coffee while you munch on freshly baked scones or cookies. A variety of pies, cobblers and turnovers are produced daily and you can special order pies for the holidays.
A stop in the Sweet Shoppe is sure to satisfy your sweet tooth and you can enjoy homemade ice cream in more than 16 flavors. The folks at Avila Valley Barn were serious when they set about opening the Sweet Shoppe in 2005. Recipes from SLO Maid Ice Cream were improved after research and studies were completed at the ice cream science classes of Penn State and Cal Poly University.  Milk for the small handmade batches the Barn specializes in comes from the last dairy on the Central Coast at Cal Poly University where a herd of Jersey and Holstein cows are maintained. This high protein milk is combined with the finest natural flavorings.
One section of the Shoppe is dedicated to old-fashioned cracker barrel hard candies and creamy homemade fudge. You can sit out on the patio to eat your treats and enjoy the view of the farm fields and orchards.
Smith is also in the process of developing an online store that will offer pies, cobblers, jams, jellies, honey, and packaged mixes. She has designed a special pie box for this endeavor and is learning fast how to market all this via the social media sites.
Smith's son Jesse and his wife Collette live in Northern California where Jesse attends the Culinary Institute. "After he graduates they are planning to return here," Smith said, "and they will take over the deli and catering business."
A great fun seasonal time happens in the fall when the pumpkins are picked and stacked up on hay bales for everyone to come and pick out their favorite just in time for Halloween. There are pumpkins of all kinds and sizes available. Hayrides take folks out to the fields for the kids to choose a pumpkin that is still on the vine and actually pick it themselves. You can also try to keep from getting lost in the Hay Maze.
During Christmas season fresh-cut Douglas firs and Oregon Nobles are brought in. Beautiful gifts are available in the gift shop and they will make up special holiday gourmet food packages for you.
"This year we are going to stay open year-round," Smith said. In years past the stand would close in December and open again in spring.
For a business that started with one table and an umbrella in 1985, the Avila Valley Barn has come a long way and will show you what authentic modern-day farming is all about and you'll have fun in the process.
Avila Valley Barn is located at 560 Avila Beach Drive, San Luis Obispo and is open daily from 9:00am-6:00pm. Visit avilavalleybarn.com for more information.
comments